ZESTY CHICKEN WITH ALMONDS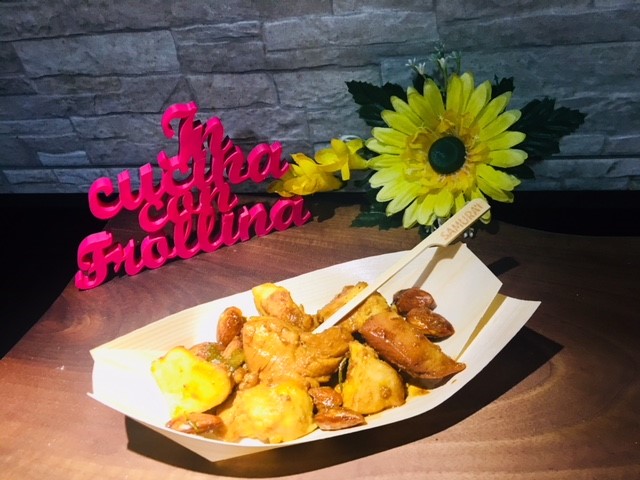 Difficulty: Easy
Preparation time: 10 minutes

Cooking time: 20 minutes
Doses for: 4 people

Ingredients
Chicken breast 600 g
Extra virgin olive oil, salt, pepper, sage, rosemary q.s.
Nubia Red Garlic 1 piece
White wine 1/2 cup
Chestnut honey 2 tablespoons
Soy sauce, spicy barbecue sauce, Almonds q.s.
Decor gondolas
Gourmet skewers

Method
Cut the chicken into small pieces and marinate it in the honey, salt, pepper, rosemary, sage, garlic, and barbecue sauce. Cover with plastic wrap and let it marinate in the refrigerator for at least 30 minutes. Put the marinated meat into a pan drizzled with olive oil. Brown the chicken for a few minutes, simmer with white wine and, once reduced, add the almonds and  the soy sauce. Let it cook slowly and serve. The aroma is so inviting: I recommend it when you want
a tasty treat but are short on time.
Plating
You can serve the chicken in the choreographic SAMURAI GONDOLAS. SAMURAI GOURMET skewers with handle make enjoying the chicken extremely practical.
Perfect for:
ZESTY CHICKEN WITH ALMONDS is a simple, easy, and fast yet tasty recipe to receive your guests with something different.