TORTA PASQUALINA (SAVOURY EASTER PIE)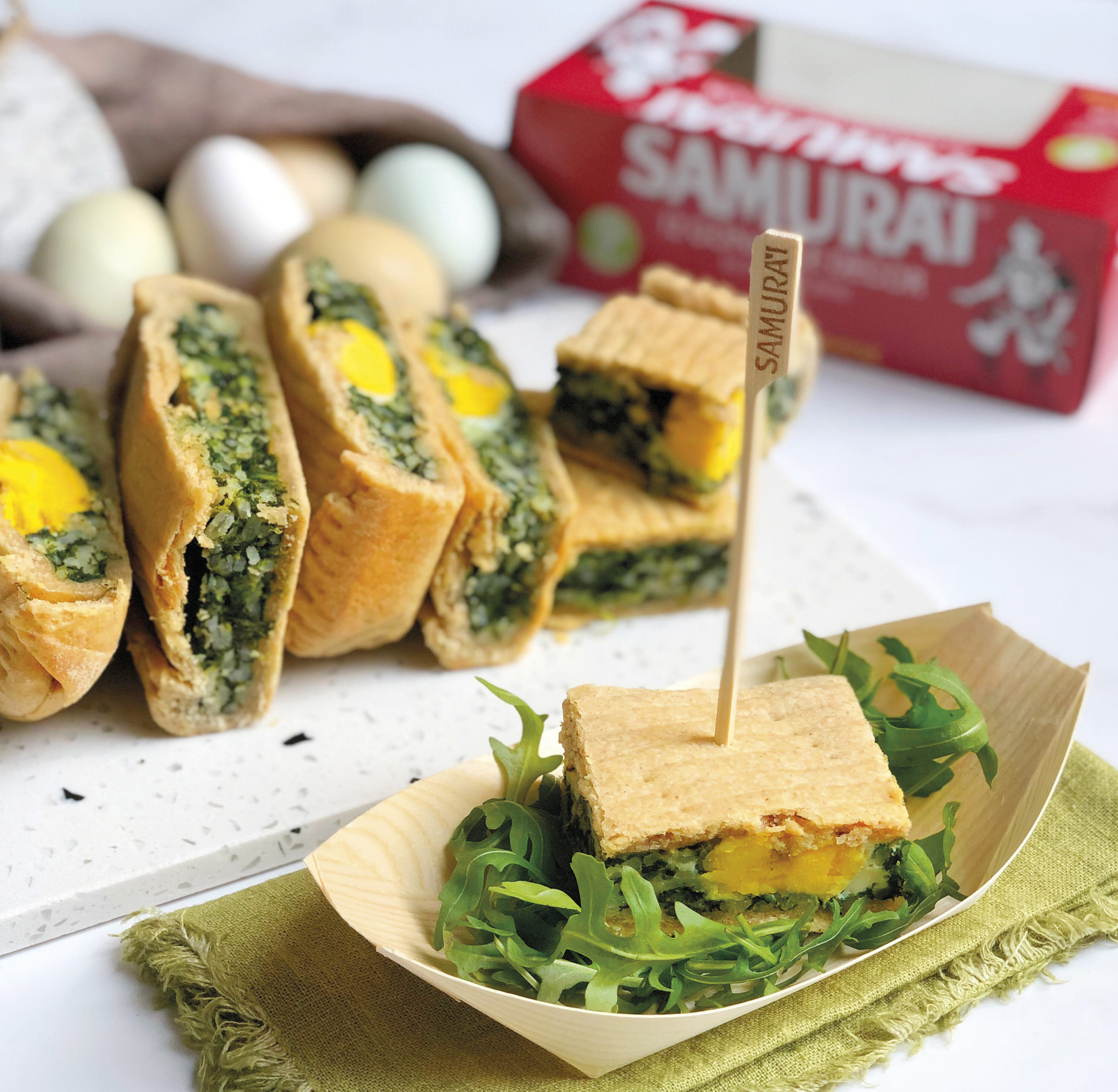 Not the classic puff pastry, nor shortcrust pastry with butter, but crunchy pâte brisée pie dough prepared with type 2 flour and extra virgin olive oil A pleasantly surprising texture, ideal for an Easter appetizer with soft and delicate flavours and spring colours.
The classic filling with ricotta has been replaced by rice, for a lighter and more digestible version.
TALENT: CLAUDIA ZANIN
INSTAGRAM: @vitalmentebio
FACEBOOK: https://www.facebook.com/vitalmentebio/
BLOG: Vitalmentebio.com
Difficulty: Easy
Preparation time: 30 minutes

Cooking time: 40 minutes
Doses for: 12 people

Ingredients
For the pâte brisée pie dough
Type "2" flour 500 g
Extra virgin olive oil 100 ml
Cold still water 160 ml
Fine salt 1 teaspoon and half

For the filling
Fresh chard 500 g
Carnaroli rice 100 g
Le Naturelle Deluxe whole egg 1
Le Naturelle Deluxe egg 5 yolks
Grated Parmigiano Reggiano cheese 30 g
Salt, pepper q.s.
Decor Gondolas
Gourmet Skewers

Method
For the pâte brisée pie dough, knead all the ingredients quickly to form a homogeneous ball. Put it in a bowl, cover it with a saucer and leave it to rest in the fridge for 30 minutes. Boil the chard in salted boiling water for 10 minutes. Drain and leave to cool. In another pot, cook the rice for 12-13 minutes in salted water and drain. When the chard is lukewarm, squeeze well in your hands to eliminate excess water. Add the chard to the rice, add the whole egg, the grated parmesan and season with salt and pepper. Divide the pâte brisée pie dough into two parts. Roll out the first part and line a square baking tin with a sheet of baking paper. Insert the dough keeping the edges about 2 – 2.5 cm high. Add the filling and level well. With a spoon, form 5 dips to insert the egg yolks. Roll out the remaining dough and pierce the surface before placing it over the mixture. After placing it gently, remove the excess and close the edges well. Bake in a convection oven at 180 degrees for 40 minutes.
Plating
Once lukewarm, divide into 12 parts and serve on a bed of rocket in the Decor Gondolas with Gourmet Skewers.
Perfect for:
An aperitif with friends, a light and tasty brunch, an informal dinner