Tasty aubergine pancakes with nduja and pistachio pesto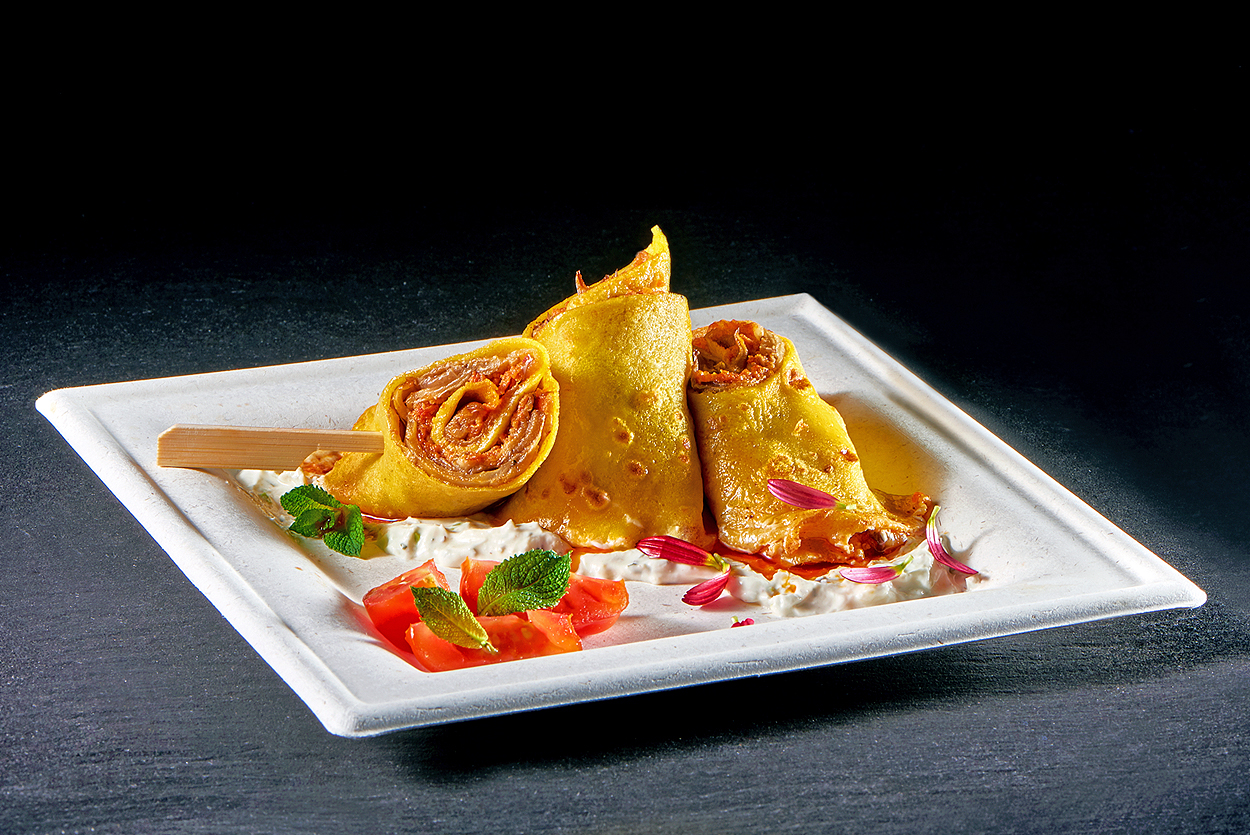 A delicious and simple, slightly spicy recipe made with aubergines and nduja that warms the heart. Ideal for those who love strong flavours, to be served as an appetizer which can even replace the first course, or as finger food during an aperitif with friends.
Difficulty: Medium
Preparation time: 60 minutes

Cooking time: 35 minutes
Doses for: 4 people

Ingredients
Type 00 flour 250 g
Eggs 4
Milk 1/2 l
Salt, oil, pepper, nutmeg, chilli, nduja, mint q.s.
Aubergines 250 g
Cream cheese 100 g
Pistachios 50 g
Parsley 20 g
Cherry tomatoes 2
Edible flowers 1
Gourmet Plate
Gourmet Skewers

Method
How to make the pancakes:
In a bowl, add the eggs, milk and salt. Mix the ingredients while adding the flour with a sieve, continuing to stir.
Let the mixture rest for 30 minutes in the fridge.
After 30 minutes, start cooking the pancakes in a small frying pan.
Prepare the aubergines:
Using a slicer, start cutting the aubergines into 5 millimetre thick slices. Add the oil to the frying pan. Once hot, add the aubergines gradually.
How to prepare pistachio sauce:
Start chopping the pistachios and parsley on a cutting board, then mix in a bowl with the cream cheese, salt, pepper and chilli.
Final method:
Place the aubergines on the pancakes. With a teaspoon spread the Nduja paste, roll them up and cut in half. Put them in a hot oven for about 10 minutes.
Cut the tomatoes into 4 parts each on a cutting board, and wash the mint carefully with cold water, then dry each leaf thoroughly.
Plating
To serve the aubergine pancakes as a first course
In a 20 x 20 cm Samurai Gourmet dish, spread the cheese and pistachio sauce horizontally, adding the warm pancakes, holding them together with a toothpick or Samurai Gourmet skewer.
Decorate the sides of the plate with cherry tomatoes and mint leaves.
SAMURAI PARTY IDEA: You can serve the aubergine and nduja pancakes as finger food during a party or aperitif. Simply put the pancakes firmly on a skewer to be served in bite-sized pieces on small 16 x 16 cm Samurai Gourmet plates.