STUFFED HARD-BOILED EGGS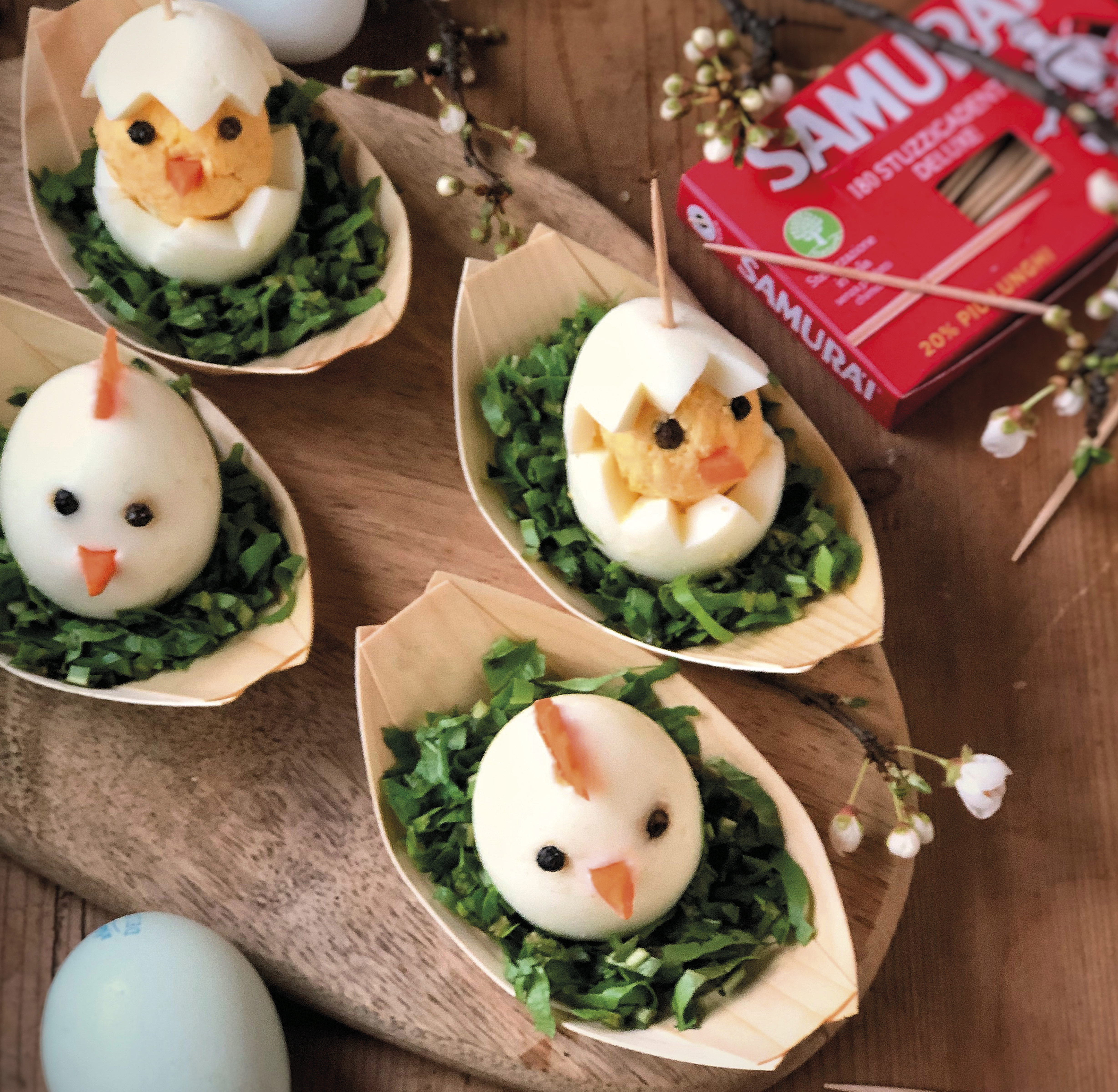 Hard-boiled eggs are a timeless tradition for the Easter appetizer. Simple, fast, tasty and very versatile, they can be stuffed in a thousand ways and are a creative approach to satisfy the most diverse tastes.
The traditional recipe for stuffed eggs, the best known and probably the most replicated one, involves using hard-boiled eggs cut in half and stuffed in the centre, but why not turn them into fun chicks and chickens to bring some joy to the table?
TALENT: MONICA BERGOMI
INSTAGRAM: @lalunasulcucchiaio
Difficulty: Easy
Preparation time: 30 minutes

Cooking time: 10 minutes
Doses for: 4 people

Ingredients
Le Naturelle Deluxe eggs 12
Pitted black olives 4
Carrot 1
Mayonnaise 3 tablespoons
Salad, anchovies in oil and capers to your liking
Tuna in oil or in brine, drained 80 g
Decor Gondolas
Deluxe Toothpicks

Method
Gently put the eggs in a saucepan with cold water and a pinch of salt. Make sure that the water covers them and that the pot is high enough to hold them all.  The salt helps to harden the egg whites quickly and helps to seal the small cracks that could form on the shells during cooking.
Once the water has boiled, simmer for 8/10 minutes
Drain the eggs and place them immediately in cold water to stop cooking and remove the shell.
Using a sharp knife cut the lower part of 6 eggs and using a teaspoon remove the hard-boiled yolk, being careful not to break the egg white.
Cut the remaining eggs in half lengthwise with a zigzag cut.
Put the yolks in a bowl, add the tuna chopped previously and the mayonnaise, mixing everything together to obtain a fairly firm mixture.
Peel and slice the carrot and cut into 12 triangles and 6 small crests.
Cut the olives into chunks to make the little eyes.
Stuff the egg whites with the yolk mixture.
Cut the top of the 6 whole eggs and insert the crest, place the eyes made with the olives and the beak.
Repeat the operation for the remaining eggs, finishing the preparation with the top of the egg.
Tips
To make chick-shaped hard-boiled eggs, use the eggs purchased at least 2 or 3 days before: in fact, very fresh eggs are more difficult to peel.
Use a cutter or a razor blade to create the zigzag effect: this way you will be able to make a precise incision, which would be difficult to do with a knife.
Plating
Serve the hard-boiled eggs by placing them on the small Samurai Gondolas with a little bit of salad.
Perfect for:
Fresh appetizers, original placeholders, for the Easter Monday picnic