SPRING COLOMBELLE CAKES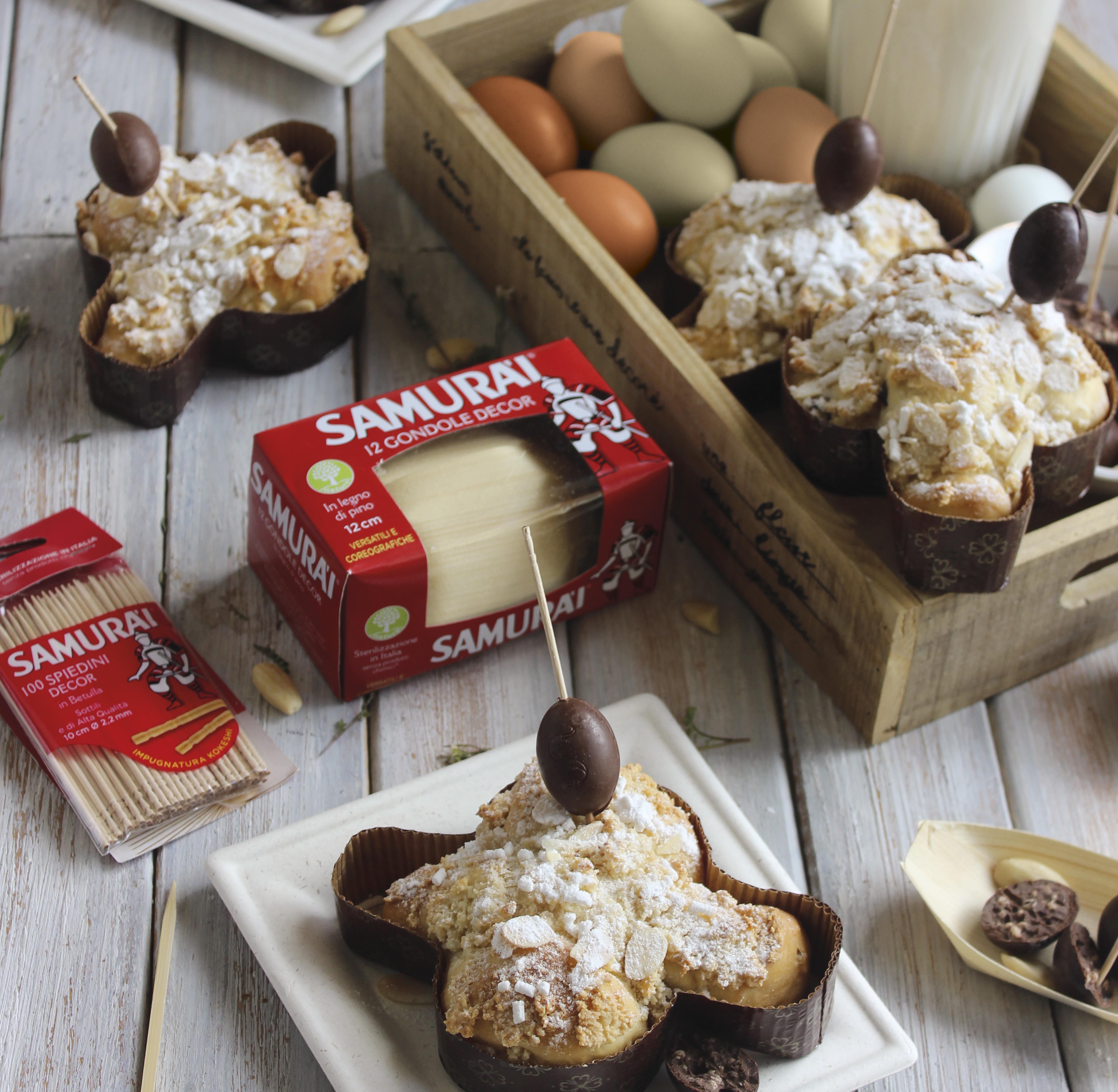 A graceful miniature version of the classic Easter Colomba (dove-shaped) cake, easy and quick to make and serve to guests, but also an original idea to accompany a floral gift.
TALENT: RAMONA VOTTA
INSTAGRAM: @ramona_storiedicucina
BLOG: http://www.ramonastoriedicucina.com/
Difficulty: Medium
Preparation time: 30 minutes

Cooking time: 20 minutes
Doses for: 5 colomba cakes, 100 g each

Ingredients
For the dough
Manitoba (strong) flour 150 g
00 flour 150 g
Sugar 60 g
Le Naturelle Deluxe egg 1
Milk 125 ml
Brewer's yeast 6 g
Grated orange and lemon zest to your likes
Butter a knob
Chocolate drops or candied fruit to your likes
100 g dove-shaped baking paper moulds 5

For the icing
Almonds 50 g
Le Naturelle Deluxe egg white 1
Almond flavouring q.s.
Amaretto liqueur 1 tablespoon
Almonds, icing sugar, pearl sugar q.s.
Decor Gondolas
Decor Skewers
Gourmet Plates

Method
For the dough
Dissolve the yeast in the warm milk, pour it into the mixer and start it while adding the two sifted flours and the egg a little at a time; wait for the mixture to be mixed thoroughly.
Add the softened butter last and when it is completely incorporated into the dough, pour everything into a bowl. Cover with cling film and leave to rise in the oven,
switched off with the light on, for about 2 hours.
Once the dough has risen, add the chocolate chips – or the candied fruit – and mix everything again. Forms some cords, a longer one which will be the body of the dove, and a shorter one which will be used to make the wings. Let it rise again in the oven (switched off) until the dough is halfway up the mould.
For the icing
Finely chop the almonds, add the egg white and continue to blend, finally adding the flavouring and liqueur. Spread the mixture over the entire surface of the colomba cakes, then if you like add more whole or sliced almonds, pearl sugar and icing sugar. Bake the colomba cakes in the preheated oven at 180 degrees for about 15/20 minutes.
Plating
Serve each little colomba on a Gourmet plate, insert a Decor skewer into it with a chocolate egg.
Perfect to be served with chocolate or cream in a Decor Gondola.
Perfect for:
Serve a classic cake in a fun and unusual way, or for a gift to be combined with a floral arrangement that celebrates spring.