SOLE SALTIMBOCCA WITH SAGE PESTO AND SPINACH WITH RAISINS AND PINE KERNELS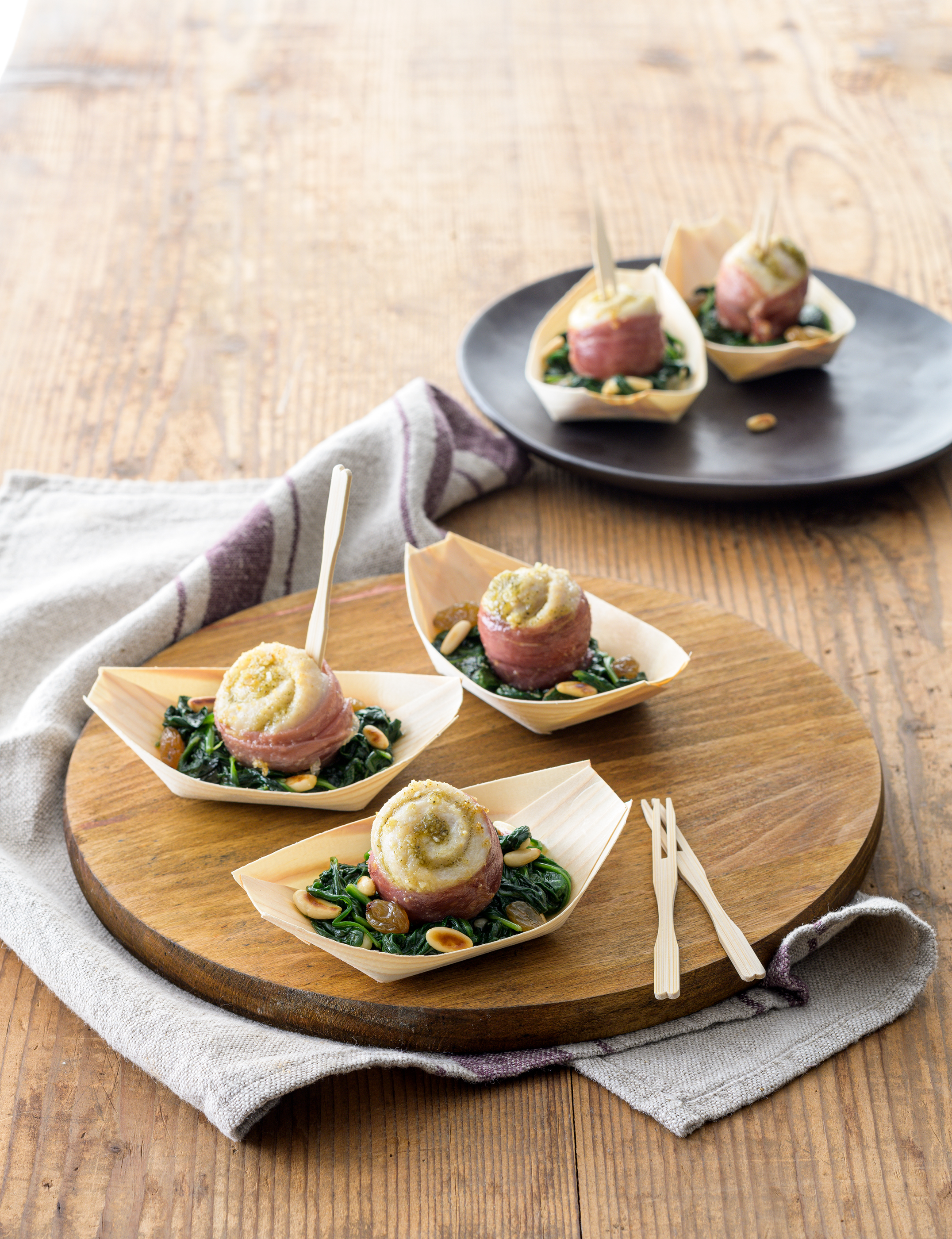 A great culinary classic, easy to make and guaranteed to be full of flavour. Saltimbocca alla romana are a delicious traditional Roman recipe, whose ingredients have again been slightly reinterpreted.
FOOD STYLIST: ANTONELLA PAVANELLO
Difficulty: Easy
Preparation time: 10 minutes

Cooking time: 20 minutes
Doses for: 4 people

Ingredients
Fillets of Senegalese sole 8 small
Prosciutto 4 slices
Extra virgin olive oil, salt q.s.

For the sage pesto
Sage 20 g
Almonds 20 g
Grated Parmigiano Reggiano cheese 20 g
Extra virgin olive oil, salt q.s.

For the spinach
Previously washed spinach 400 g
Butter 40 g
Raisins 20 g
Pine kernels 15 g
Salt q.s.
Decor Gondolas
Elegant Mini Forks

Method
Blend the sage with the almonds, the Parmesan cheese and a pinch of salt and trickle the oil until the mixture is thick and smooth (it should be rather dense, not as fluid as pesto). Place the sole fillets on a cutting board, spread the sage pesto over them, roll them and wrap each roll in half a slice of prosciutto.
Rinse the raisins in lukewarm water and drain well. Toast the pine kernels for a couple of minutes in a non-stick pan with no seasoning and set aside. In the same pan, melt the butter, add the baby spinach (with 4-5 tablespoons of water if sold pre-washed in a box, otherwise put them in the pan with the remaining water after washing them) and toss until wilted. Add the raisins and pine kernels, salt to taste, stir again and remove from the heat.
While cooking the spinach, heat 4 tablespoons of oil in another non-stick pan. Brown the rolls over medium heat for 5 or 6 minutes, turning them gently until golden on all sides and remove them from the heat.
Plating
Divide the spinach in the Gondolas, place a sole saltimbocca at the centre, pierce with an Elegant Mini Fork and serve.
Perfect for:
Alternative idea for a tasty second course or a brunch