SCALLOPS WITH ASPARAGUS AND BACON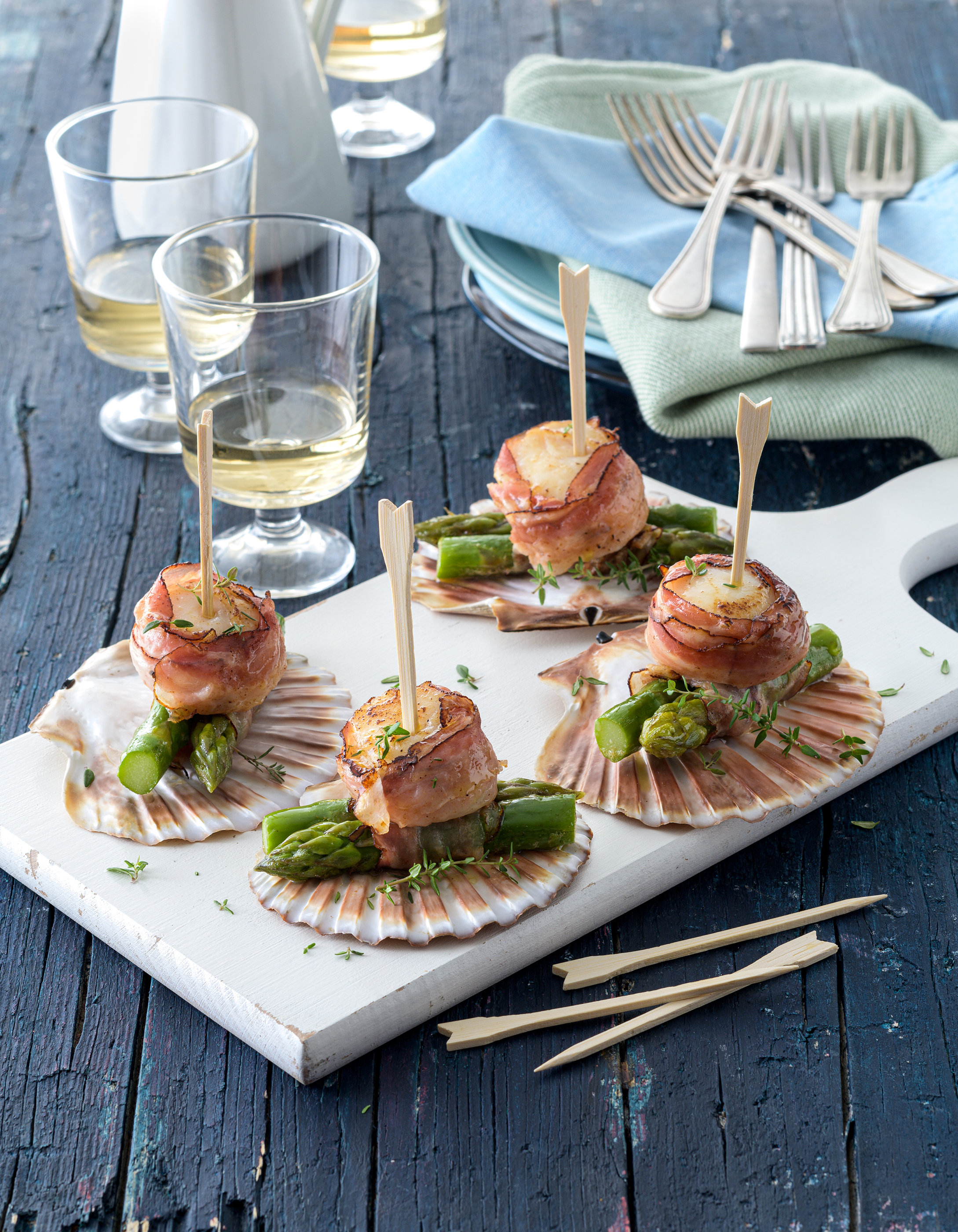 Scallops are a perfect starter for any occasion: with a delicate taste, flavoured with bacon and asparagus embellishing this fine seafood, this is a delicious and easy recipe guaranteed to impress.
FOOD STYLIST: ANTONELLA PAVANELLO
Difficulty: Easy
Preparation time: 25 minutes

Cooking time: 5 minutes
Doses for: 4 people

Ingredients
Scallops 4
Green asparagus spears 8
Bacon/smoked pancetta 8 thin slices
Butter 40 g
Thyme a few sprigs
Salt q.s.
Flower Skewers

Method
Remove the tough ends of the asparagus and only keep 6cm-long tips. Wash and steam for 4-5 minutes. Leave to cool and as soon as you can handle them, wrap 2 at a time in a slice of bacon.
Use a small knife to remove the scallops from the shell, as well as the coral and the dark membranes. Use kitchen paper to make sure they are perfectly dry. Wrap each scallop in a slice of bacon.
Melt the butter in a large non-stick pan and brown the asparagus and scallops for about 1 minute on each side.
Plating
Place each pair of asparagus spears on a shell or on a small plate, top with a scallop and pierce it with a Flower Skewer to pin it to the asparagus. Season with a pinch of salt flakes, add a few sprigs of thyme for flavour and serve.
Perfect for:
Perfect for brunch with finger food or as a second course