SAVOURY CREAM TART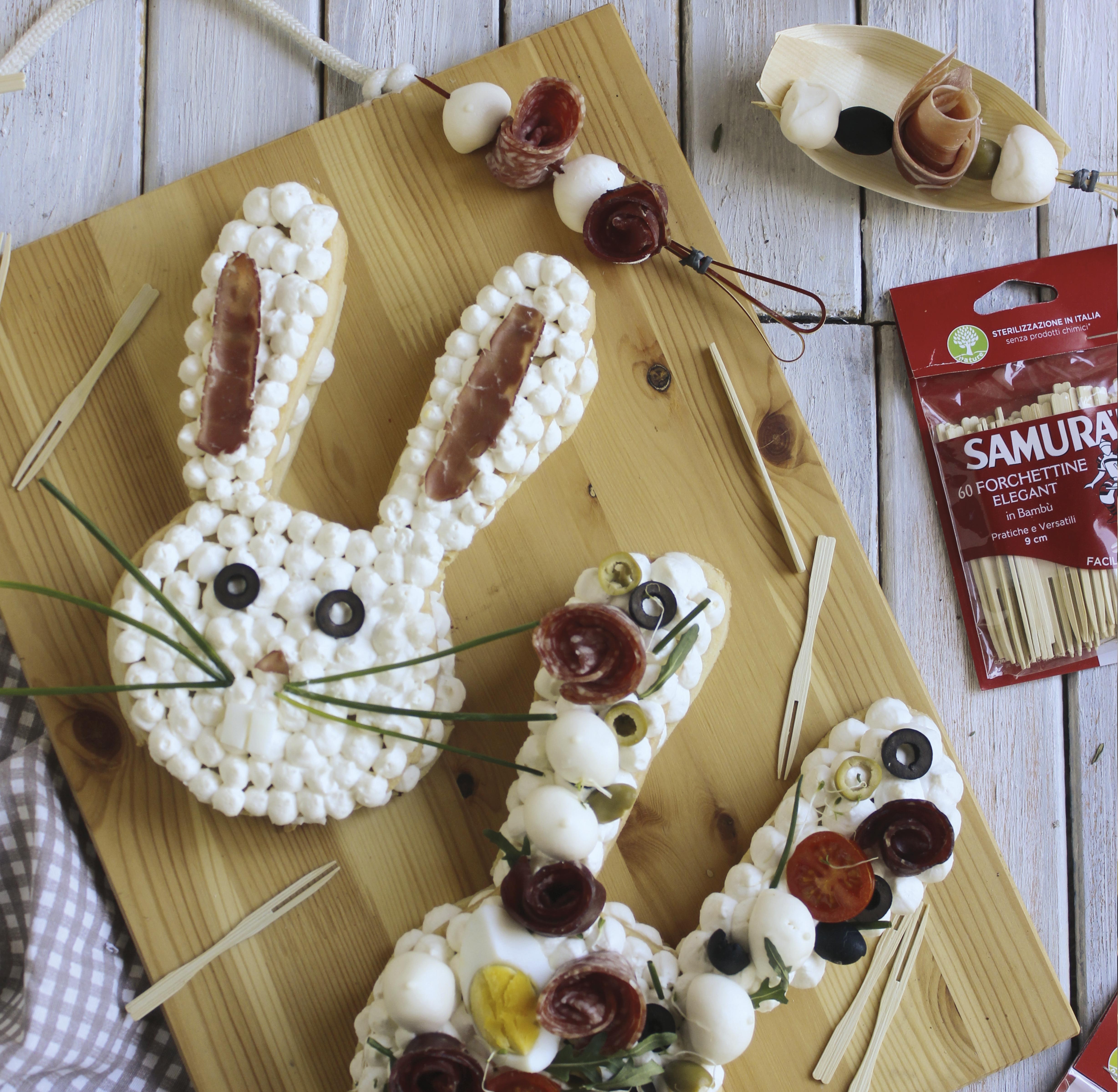 A savoury version of the famous Cream Tart made in a very original form to be, in addition to being delicious, also particularly decorative for the table and fun for the little ones.
TALENT: RAMONA VOTTA
INSTAGRAM: @ramona_storiedicucina
Difficulty: Medium
Preparation time: 50 minutes

Cooking time: 15 minutes
Doses for: 8 people

Ingredients
For the Base
Flour 300 g
Grated cheese 100 g
Salt and pepper q.s.
Le Naturelle Deluxe medium-sized eggs 2
Butter 130 g

For the Filling
Mascarpone cheese 250 g
Cream cheese 200 g
Ricotta cheese 100 g
Grated cheese 2 tablespoons
Salt and pepper q.s.

For the garnish
Bresaola 100 g
Salami 100 g
Black and green olives q.s.
Little mozzarella balls q.s.
Rocket, Chives, Bean sprouts q.s.
Cherry tomato 1
Le Naturelle Deluxe hard-boiled eggs 2
Decor Gondolas
Elegant Mini Forks
Love Skewers

Method
To make the base
Blend together flour, cheese, salt, pepper and the diced butter, until obtaining a crumbly mixture, add the eggs and continue to whisk until you get a very firm dough, which you will have to work into a ball on a pastry board and wrap in cling film to rest in the fridge for 30 minutes.
For the filling
Pour all the ingredients into a bowl and work with the whisk by hand to make them homogeneous. Transfer the mixture into a pastry bag with a round nozzle and store in the fridge until required.
Take the dough for the base, roll it out with a rolling pin, make the desired shapes by using a mould or cut-outs of shapes to be imitated, in this case a rabbit. To make two cakes like mine you will have to make 4 shapes.
Prick the surface with a fork, then bake it in the preheated oven at 180° for about 15 minutes. Leave to cool completely.
Filling and Garnish: take the first base and fill evenly, then lay the other base and fill again.
To decorate the bunny
Make the eyes with two slices of olives, 6 strands of chives for the moustache, for the teeth shape the hard-boiled egg white and make the nose and ears with bresaola.
For the other bunny
Roll up the slices of salami to resemble buds, cut the olives, the cherry tomatoes and the egg into rings and place all the ingredients on the surface as desired together with the little mozzarella balls, then decorate everything with rocket and bean sprouts.
Plating
Place on a tray and serve each portion on a Decor Gondola.
Perfect for:
Aperitifs, appetizers, Easter buffet or even for Easter Monday