RICOTTA, ROCKET AND BRESAOLA FRITTATA SANDWICH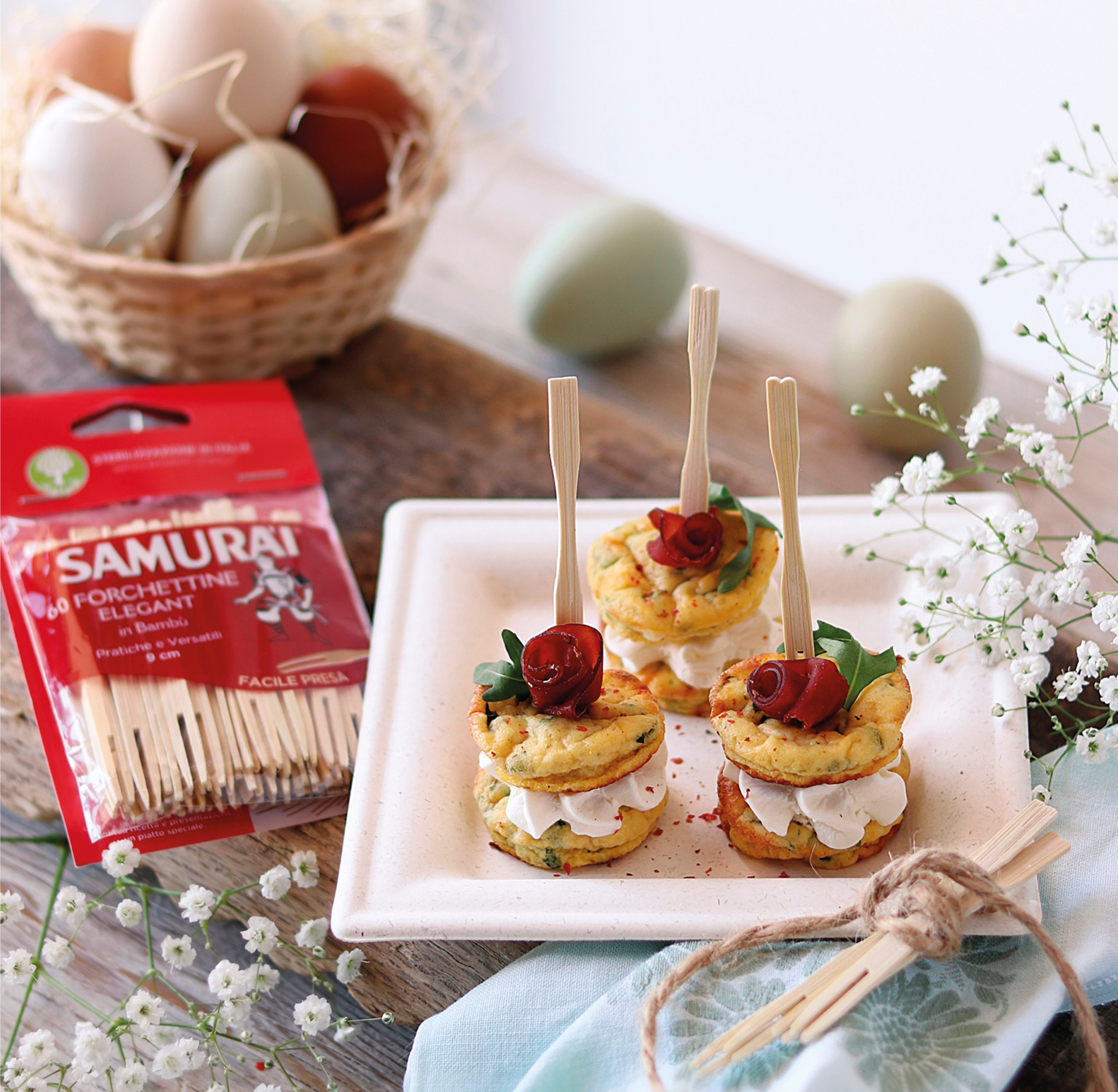 The ricotta, bresaola and rocket frittata is a tasty and easy to prepare main course. A variation of the usual dish with guaranteed success!
TALENT: TIZIANA RICCIARDI
INSTAGRAM: @deliziosavirtu
Difficulty: Easy
Preparation time: 30 minutes

Cooking time: 15 minutes
Doses for: 6 sandwiches

Ingredients
Le Naturelle Deluxe eggs 2
Ricotta cheese 60 g
Grated parmesan cheese 15 g
Rocket 10 g
Goat cheese 90 g
Bresaola 2 slices
Salt and pepper q.s.
Elegant Mini Forks
Gourmet Plates

Method
In a bowl mix the lightly beaten eggs with the ricotta, the grated parmesan cheese and the rocket chopped into small pieces, salt and pepper. Pour the dough into a baking tray-tin with 12 single portion discs – 3 cm in diameter by 1 cm high, greased previously. Bake at 200 degrees for about 15 minutes, take it out of the oven and leave to cool down.
Plating
Take the frittatas and spread the goat cheese on six discs using a pastry bag with a star nozzle. Cover with the other frittata disc, form a little rose with a strip of bresaola and insert an Elegant Mini Fork. Put a rocket leaf on top and serve on the Gourmet Plates with some ground pepper.
Perfect for:
Perfect to be served also as a single dish or as an appetizer