PINEAPPLE LOLLIES WITH COCONUT AND CHOCOLATE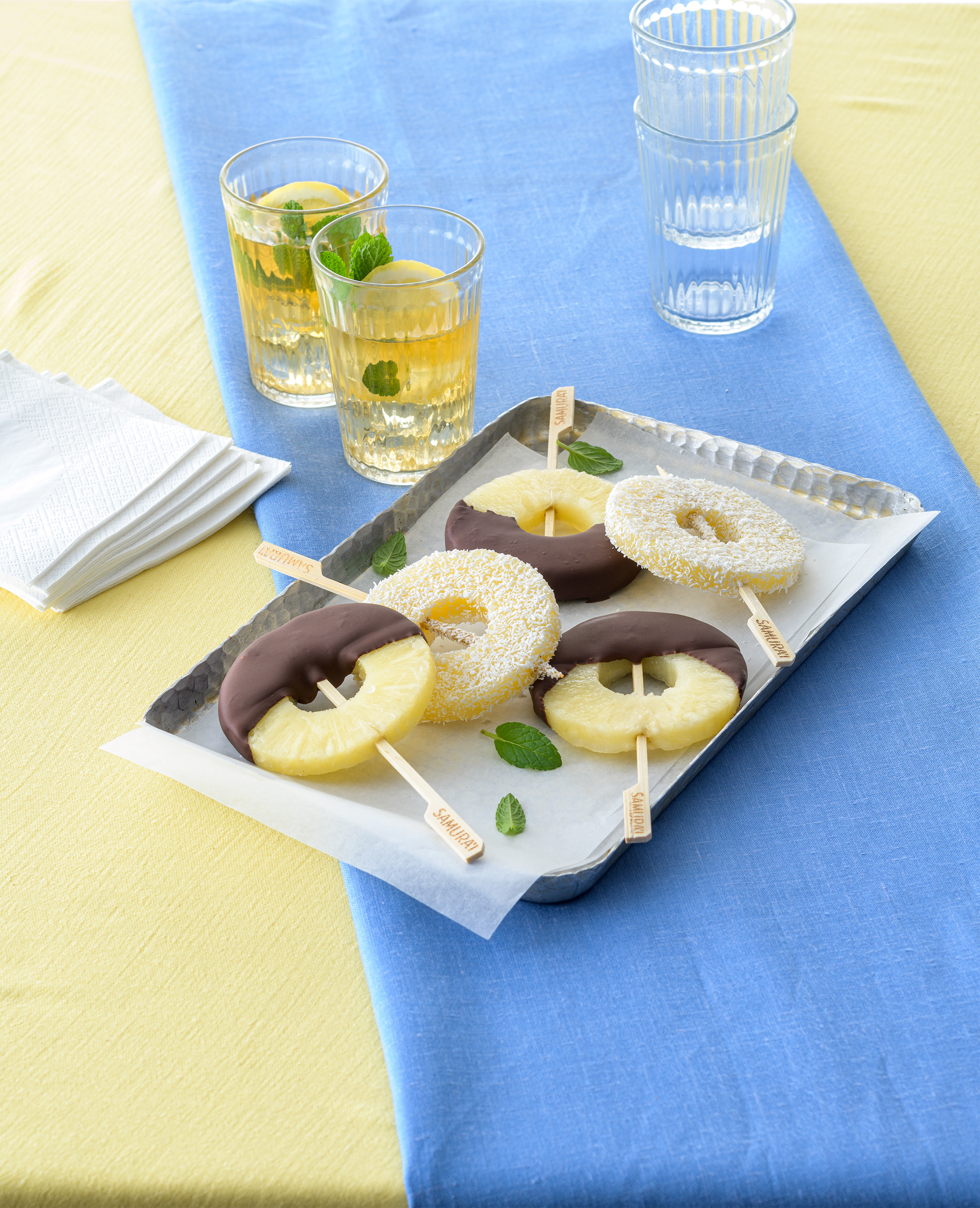 Pineapple and Coconut Lollies are perfect for hot days and a light option for the sweet tooth of children and adults alike!
An irresistible exotic flavour that you can make even more divine by coating them with dark chocolate.
FOOD STYLIST: ANTONELLA PAVANELLO
Difficulty: Easy
Preparation time: 15 minutes + 2 hours freezing

Cooking time: 15 minutes
Doses for: 4 people

Ingredients
Canned pineapple 8 slices
Dark chocolate 200 g
Dehydrated coconut 100 g
Gourmet Skewers

Method
Line a baking tray with baking paper.
Drain the pineapple slices, place them one at a time on a chopping board and pierce them from side to side with a Gourmet Skewer, with the tip protruding slightly.
Line up the pineapple slices on the tray and leave to set in the freezer for at least 2 hours.
After the time needed to freeze the pineapple, place the coconut in a bowl. Break the chocolate into pieces, transfer to a small saucepan and melt over a bain marie.
Plating
Dip the 4 pineapple slices into the melted chocolate, one at a time, to only cover half a slice and place them back on the tray in the freezer.
Dip the other slices into the dehydrated coconut, covering half a slice and put them briefly back into the freezer to set.
Serve right away or store in the freezer until needed.
Perfect for:
A sweet compromise everyone will enjoy and that will go down a treat with the kids