MEDITERRANEAN-STYLE STUFFED EGGS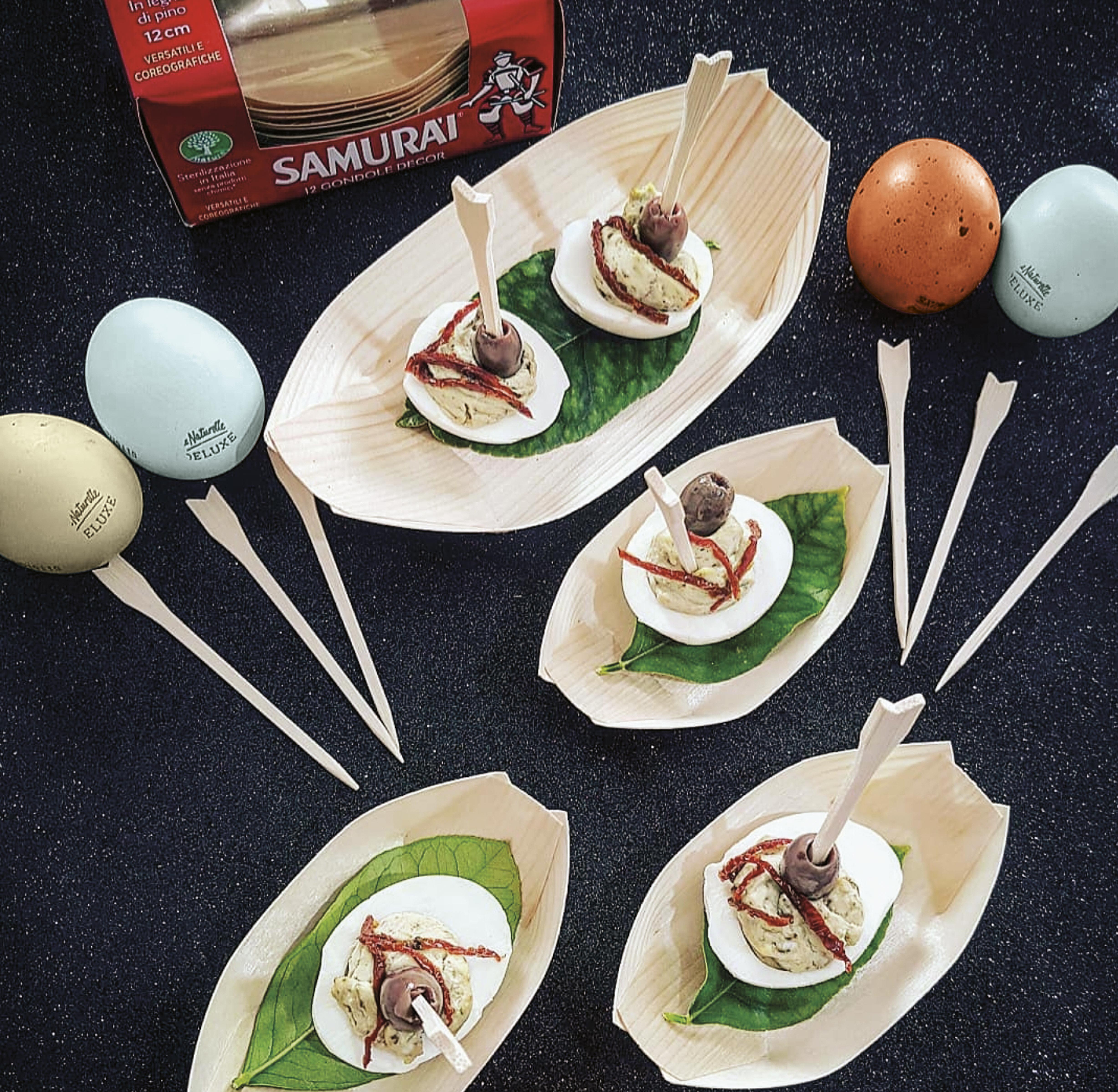 A little Mediterranean atmosphere at the table while waiting for the first course? Here is the recipe for the most delicious stuffed eggs to be enjoyed while waiting for everything to be ready in the kitchen and also for the arrival of the last guest. Sun-dried tomatoes, capers, black olives… the advice is to serve them with the Easter pigne, typical Easter bread of Campania origin.
TALENT: ASSUNTA DI NARDO
INSTAGRAM: @pasticcidisusi
Difficulty: Easy
Preparation time: 25 minutes

Cooking time: 10 minutes
Doses for: 4 people

Ingredients
Le Naturelle Deluxe eggs 4
Sun-dried tomatoes 4
Capers 1 handful
Pitted black olives 5
Extra virgin olive oil, salt q.s.
Parsley 1 sprig
Decor Gondolas
Flower Skewers

Method
Prepare the hard-boiled eggs by placing them in a large pot with plenty of water and cook for 10 minutes from when it starts to boil, leave to cool and then peel them.
Cut them in half, take the yolks and mix them in a bowl with a drizzle of oil, desalted capers, a pinch of salt and finely chopped parsley and mix using an immersion blender until you get a creamy mixture. Put the mixture into a pastry bag to fill the remaining egg whites creating delicious little boats.
Plating
Stuff with strips of sun-dried cherry tomatoes and an olive; place everything on the Decor Gondolas and insert a Flower Skewer into each portion.
Perfect for:
Aperitifs, brunches and spring snacks