Lamb with aromatic herbs on a velvety sauce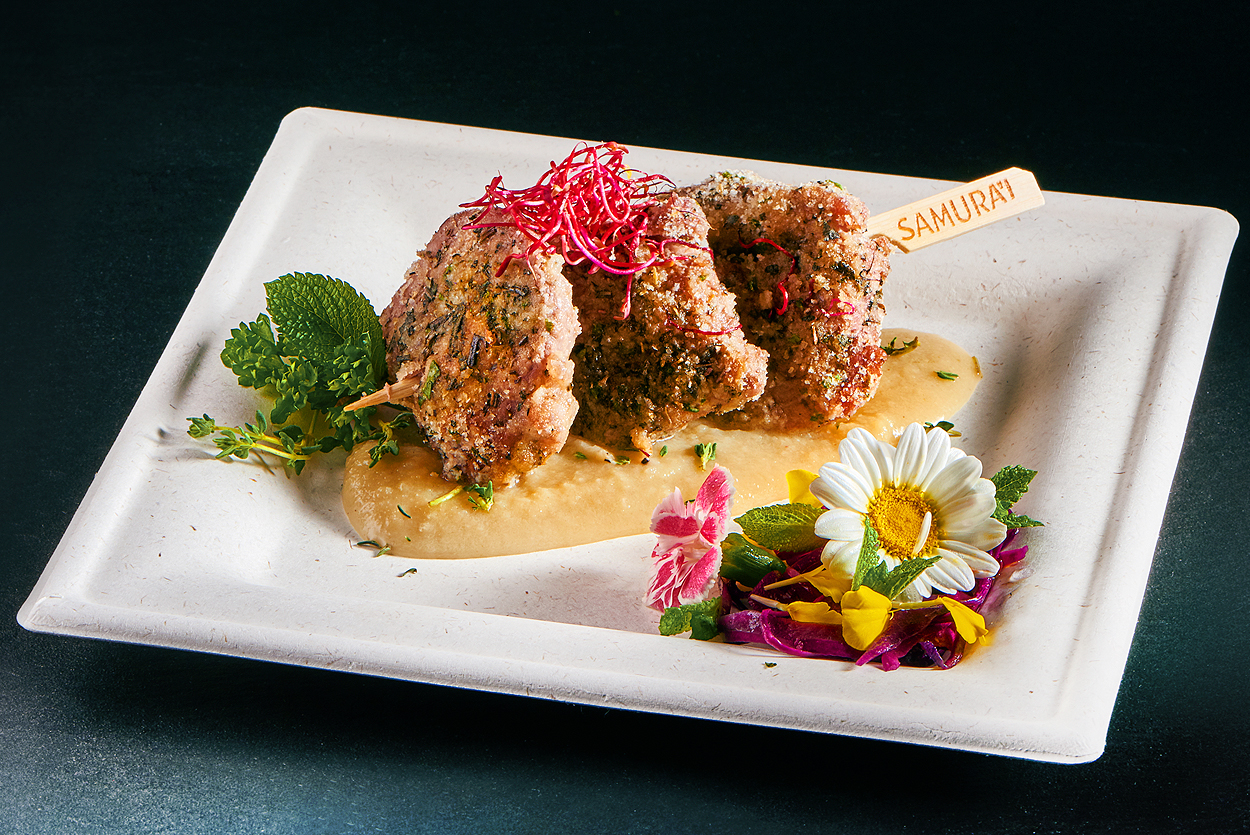 Lamb chops are an elegant, refined main course. We propose it with a sauce made with Jerusalem artichokes that enhances the flavour. Some edible flowers can enhance the uniqueness of this dish – ideal for a romantic dinner main course, or as finger food thanks to the use of Samurai Gourmet Skewers with handles.
Difficulty: Easy
Preparation time: 50 minutes

Cooking time: 30 minutes
Doses for: 4 people

Ingredients
Lamb chops 800 g
Jerusalem artichokes 500 g
Potato 1
Vegetable broth q.s.
Mustard 2 tablespoons
Thyme, Rosemary and marjoram 30 g
Extra virgin olive oil, salt and pepper q.s.
Nutmeg q.s.
Brandy 2 tablespoons
Samurai gourmet 20x20 plates
Samurai Gourmet Skewers

Method
Wash the aromatic herbs and chop them. Grease the chops and spread some mustard on them. Sprinkle with chopped herbs and wrap in foil. Leave for at least 30' to add flavour.
Meanwhile, peel the Jerusalem artichokes and the potato, cut them into small pieces and boil for 20-25 minutes in vegetable broth. Mash the vegetables in the potato masher, placing them in a saucepan. Put it on a hot burner and stir to create a puree, adding a little broth, nutmeg, oil, salt and pepper.
Heat a non-stick pan with a drop of oil and cook the chops for 3' per side, sprinkling them with a little brandy. Season with salt and pepper.
Plating
Serve the chops on a Samurai Gourmet skewer with handle and place it on top of the Jerusalem artichoke puree, decorating with some edible flowers and chopped herbs.