HARD-BOILED EGGS STUFFED WITH ROBIOLA CREAM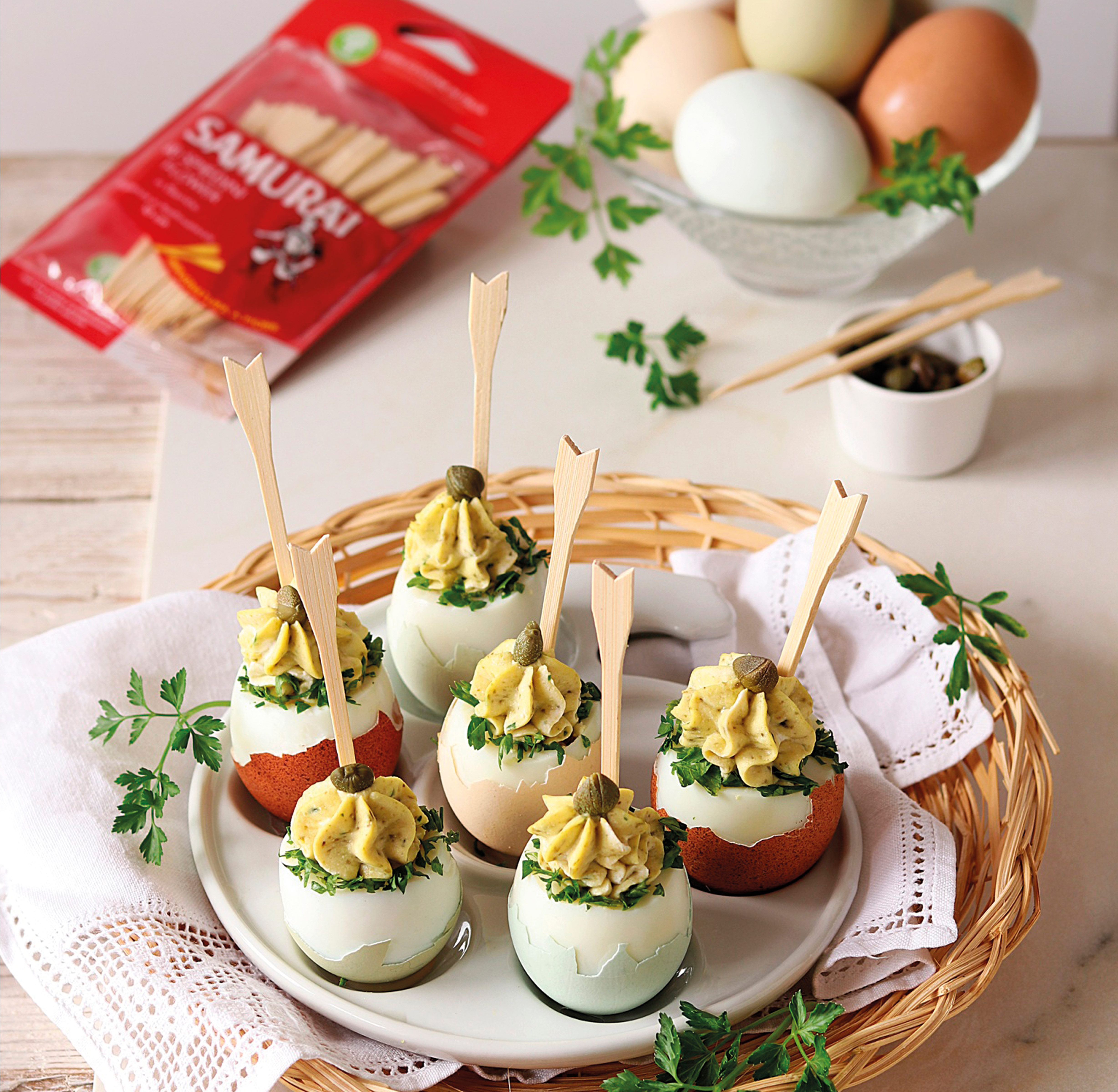 It is easy to say "I'm cooking two hard-boiled eggs" but it is much more complicated to make them delicious and original, to accompany an aperitif  or a buffet  to amaze even the most demanding guests!
TALENT: TIZIANA RICCIARDI
INSTAGRAM: @deliziosavirtu
Difficulty: Easy
Preparation time: 30 minutes

Cooking time: 10 minutes
Doses for: 10 eggs

Ingredients
Boiled and mashed potatoes 70 g
Le Naturelle Deluxe hard-boiled egg yolks 10
Pickled capers 1 tablespoon
Anchovy fillets in oil 2
Robiola cheese 90 g
Chopped parsley q.s.
Salt and pepper q.s.
Extra virgin olive oil q.s.
Flower Skewers

Method
Prepare the hard-boiled eggs by placing them in a large pot with cold water and cook for 10 minutes from when it starts to boil. Place the eggs under cold running water to remove the shell easily. Then peel them, leaving some peel underneath. Cut the top and remove the yolk using a small spoon. Put the yolks, boiled potatoes, capers, anchovy fillets, parsley and robiola cheese in a mixer and mix until you obtain a homogeneous and creamy mixture. If needed, add a drizzle of oil, season with salt.  Put the mixture in a small pastry bag with a star nozzle.
Plating
Sprinkle some chopped parsley on the edge of the eggs and fill them with the mixture prepared previously. Decorate with a caper and insert a Flower Skewer into each portion. Sprinkle with ground pepper and serve in an egg serving dish.
Perfect for:
Appetizer, aperitif, brunch, suitable for any occasion!