GLUTEN FREE PUFF PASTRY BUNS WITH CREAM OF ASPARAGUS AND SMOKED SALMON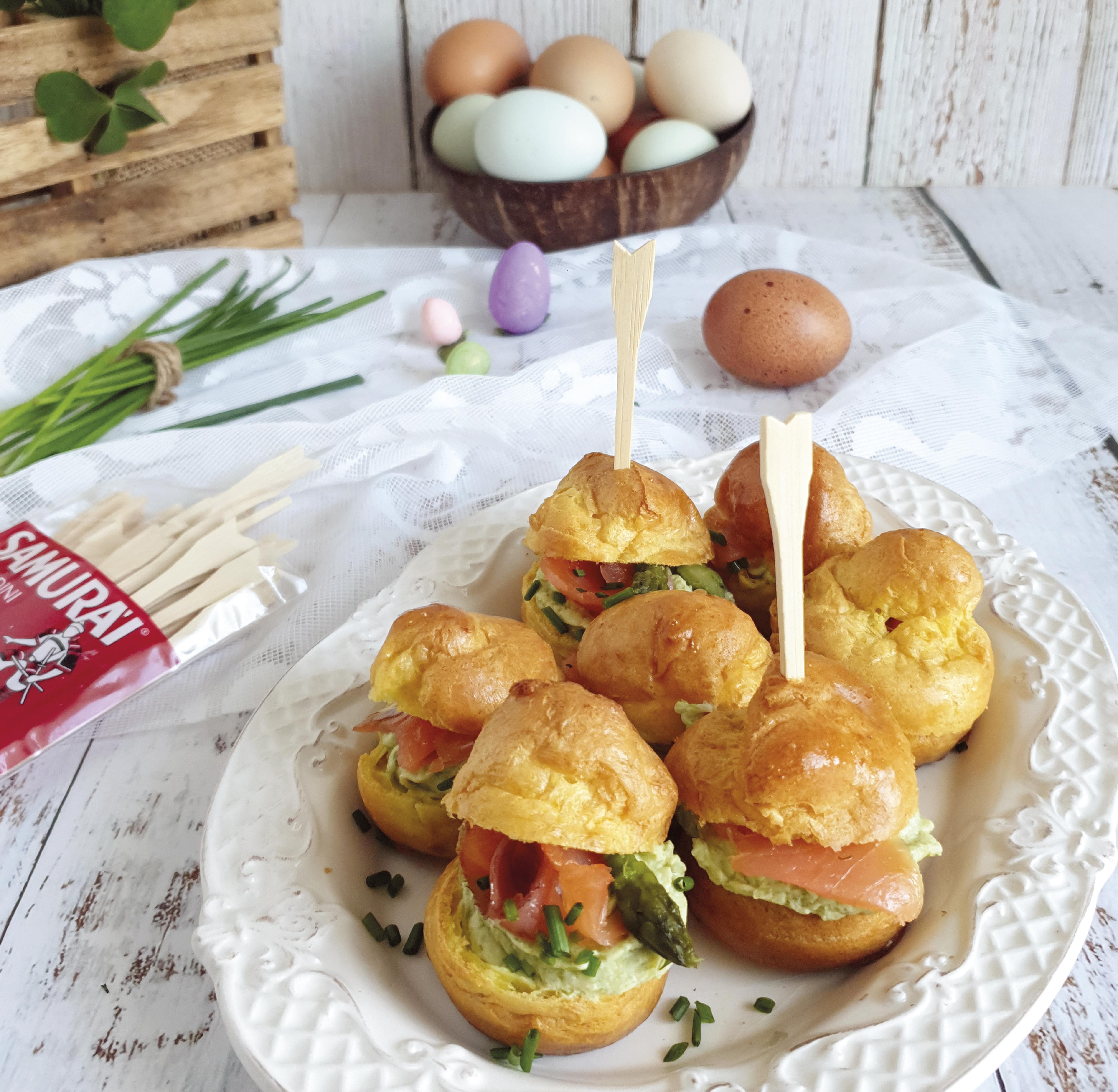 They say that these puff pastry shells have very ancient origins and even date back to the Renaissance court of Catherine de' Medici.
Can you imagine how many generations have tasted these little delicacies? Yet, as happens with all the recipes that really hit the spot, puff pastry buns never go out of style and are always appreciated by everyone!
TALENT: RODICA BLEANDURA
INSTAGRAM: @rodi_diario_di_una_cicciona
Difficulty: Easy
Preparation time: 30 minutes

Cooking time: 25 minutes
Doses for: 16 puff pastry buns

Ingredients
For the puff pastry buns
Water 75 ml
Semi-skimmed milk 75 ml
Le Naturelle Deluxe eggs 2
Rice flour 50 g
Cornstarch 20 g
Corn or sunflower seed oil 70 ml
Salt, tumeric q.s.
Egg yolk for brushing pastry 1

For the filling
Asparagus tips 200 g
Cream cheese 200 g
Smoked salmon 120 g
Fresh chives q.s.
Olive oil 1 tablespoon
Shallot 1/2
Flower Skewers

Method
Put the water, milk, oil, a pinch of turmeric and a pinch of salt in a saucepan, bring to the boil and pour in the flour and cornstarch; mix everything with a whisk to avoid the formation of lumps. Cook the mixture over low heat for about 5 minutes, stirring constantly and then leave to cool.
Add the eggs one at a time, mixing well with a whisk (after mixing the first egg thoroughly, add the second one). The final consistency of the dough must resemble very thick custard.
Transfer the mixture into a pastry bag and use a smooth nozzle to create small well-spaced balls, placing them on a baking tray lined with baking paper. To give the puff pastry buns a nice appearance, brush lightly with the yolk mixed with half a teaspoon of water.
Preheat the oven to 220° C (static) and bake the puff pastry buns. After 5 minutes, lower the temperature to 180°C and cook for 15-20 minutes keeping the door slightly open to let out the steam (you can insert a spoon). Leave the puff pastry buns in the oven for another 10 minutes, then remove from the oven and leave to cool completely.
For the filling
Wash and cut the asparagus, set aside the tips that you will use to decorate. In a pan cook the shallots tossed in olive oil and the chopped asparagus, adding 2 -3 tablespoons of water. Once ready, let everything cool and blend. Then add the cream cheese and a pinch of salt and transfer the mixture to the pastry bag.
Plating
Cut the puff pastry buns in half, fill with cream of asparagus, add a little rose made with smoked salmon, the tip of asparagus and chopped chives. Close the puff pastry bun and insert a Flower skewer through the top.
Perfect for:
A fresh appetizer, an aperitif, a brunch, a picnic