FRIED TORTELLONI SKEWERS WITH TOMATO SAUCE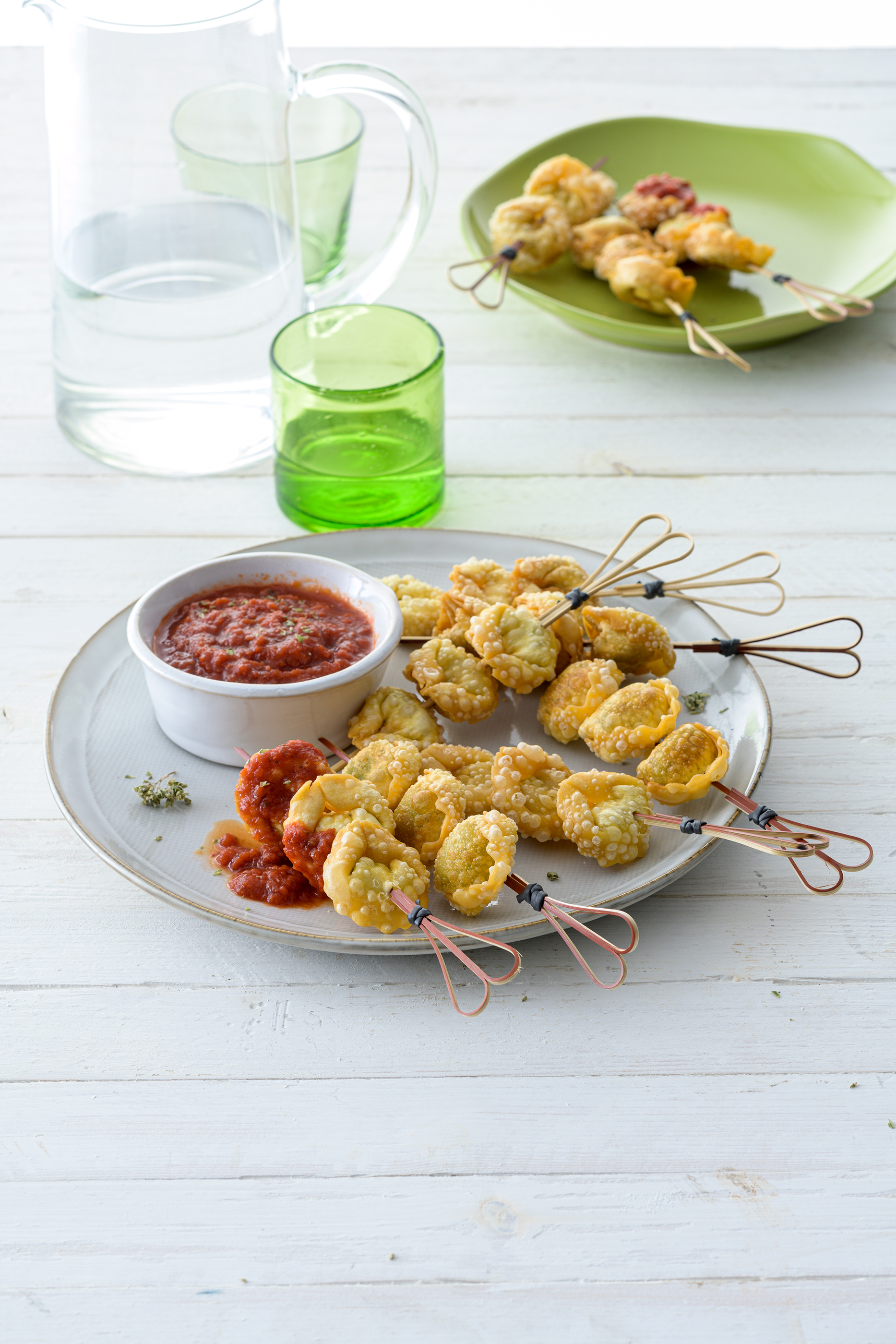 Fried tortellini skewers are a tasty dish you can make in no time. To be enjoyed with their sauce, make sure you eat them when they're piping hot!
FOOD STYLIST: ANTONELLA PAVANELLO
Difficulty: Easy
Preparation time: 15 minutes

Cooking time: 10 minutes
Doses for: 4 people

Ingredients
Tortelloni with lean meat of choice 400 g
Tomato sauce 300 g
Peanut oil q.s.
Dried oregano q.s.
Salt and pepper q.s.
Love Skewers

Method
Pour the tomato sauce into a saucepan and set aside. Heat the oven to 120°C and line 2 baking trays with kitchen paper.
Heat the oil in a saucepan and, when hot, fry the tortelloni, just a few at a time, until golden brown on all sides. Drain off excess oil on the paper lined tray and, when you are able to handle them, thread 3 of them onto a Love Skewer. As they become ready, transfer the skewers onto the other tray and keep them warm in the oven.
Heat the tomato sauce on very gentle heat and season with a spoonful of oregano and freshly ground pepper.
Plating
As soon as you have finished frying all the tortelloni and have assembled all the skewers, transfer the sauce to a bowl. Take out the skewers from the oven and sprinkle with a pinch of salt. Arrange them around the bowl with the sauce and serve.
Perfect for:
A reinterpretation of a tasty first course, also perfect for a brunch with a friends