CREPES WITH SALMON TROUT, ASPARAGUS, SAFFRON PISTILS AND BECHAMEL SAUCE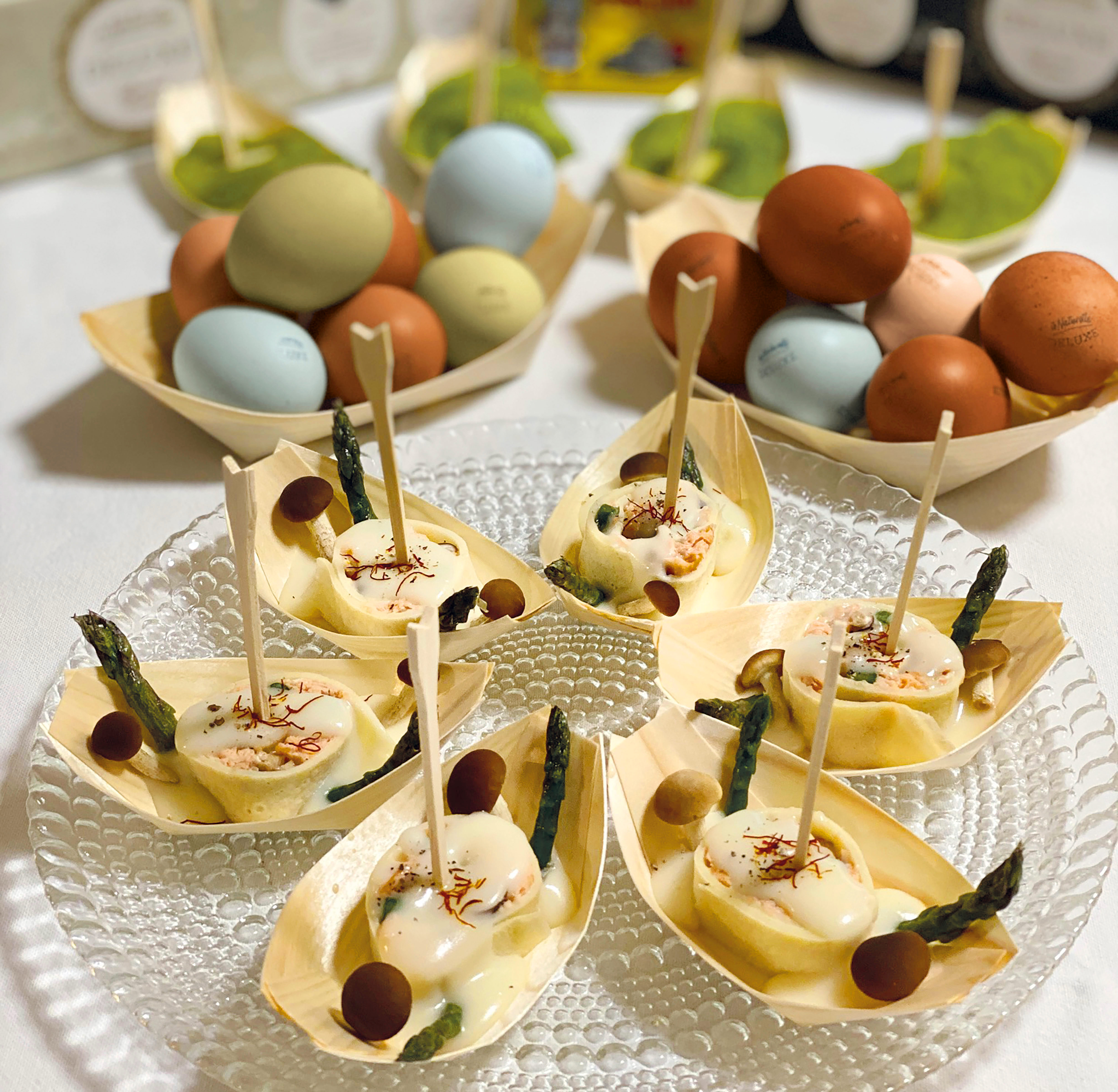 Simple to prepare, they are always appreciated and look good on a festive table.  The savoury crepes can be used in numerous recipes, very appreciated to reconcile the tastes of all guests, both for lunch and dinner. Here they are suggested in a delicate version with trout, asparagus and with a sweet saffron detail.
TALENT: MASSIMO BENTIVOGLIO
INSTAGRAM: @massimobentivoglio
Difficulty: Easy
Preparation time: 60 minutes

Cooking time: 45 minutes
Doses for: 20 finger food portions

Ingredients
For the crepe bases 10 layers measuring 20cm in diameter
Whole milk 350 ml
Le Naturelle Deluxe eggs 3
Butter 30 g
00 flour 200 g
sale, nutmeg q.s.

For the filling
Salmon trout weighing 1 kg, cleaned and sliced
Bunch of asparagus (the thinnest ones) 1
Chiodini (Armillaria mellea "honey") mushrooms 1 cup
Béchamel sauce 600 ml
Decor Gondola
Flower Skewers

Method
Make the crepes bases by blending all the ingredients together in a measuring cup and until obtaining a semi-liquid cream; leave to rest in the fridge for about 30 minutes. Heat a lightly buttered non-stick pan, pour the mixture one ladle at a time and swirling the pan to coat it evenly until you get a thin layer that will be ready in a couple of minutes. Leave to cool on a smooth surface and repeat the operation to obtain 10 bases. Then cool in the fridge.
Bake the trout in the oven for 15 minutes at 220 degrees. Take the green asparagus tips and blanch for 5 minutes, then cool in water with ice. After washing and cleaning the mushrooms, sauté them for 5 minutes in a pan with a drizzle of garlic-scented extra virgin olive oil, until the released water has evaporated.
Leave to rest in the fridge.
On each base, spread a little béchamel sauce, crumble a piece of trout with your hands, place the whole asparagus and some mushrooms. Roll-up the crepe with the filling into a "cannolo"-shaped tube and place on a lightly greased baking tray. Repeat the operation until the baking tray is filled, cover the surface with a little béchamel sauce and bake at 220 degrees for 20 minutes, until crispy. Remove from the oven and leave to cool down.
Plating
Cut each "cannolo"-shaped tube into 4 slices and arrange each in a small Decor Gondola for a taste or divide into two portions and put them together in the large one to serve a richer first course. Decorate each portion with a spoonful of béchamel sauce and saffron pistils, and finally insert a Flower Skewer into each one.
Perfect for:
A quick and impressive first course
A delicious appetizer
A different second course