CHOCOLATE AND YOGURT MINI CAKES IN EGGSHELL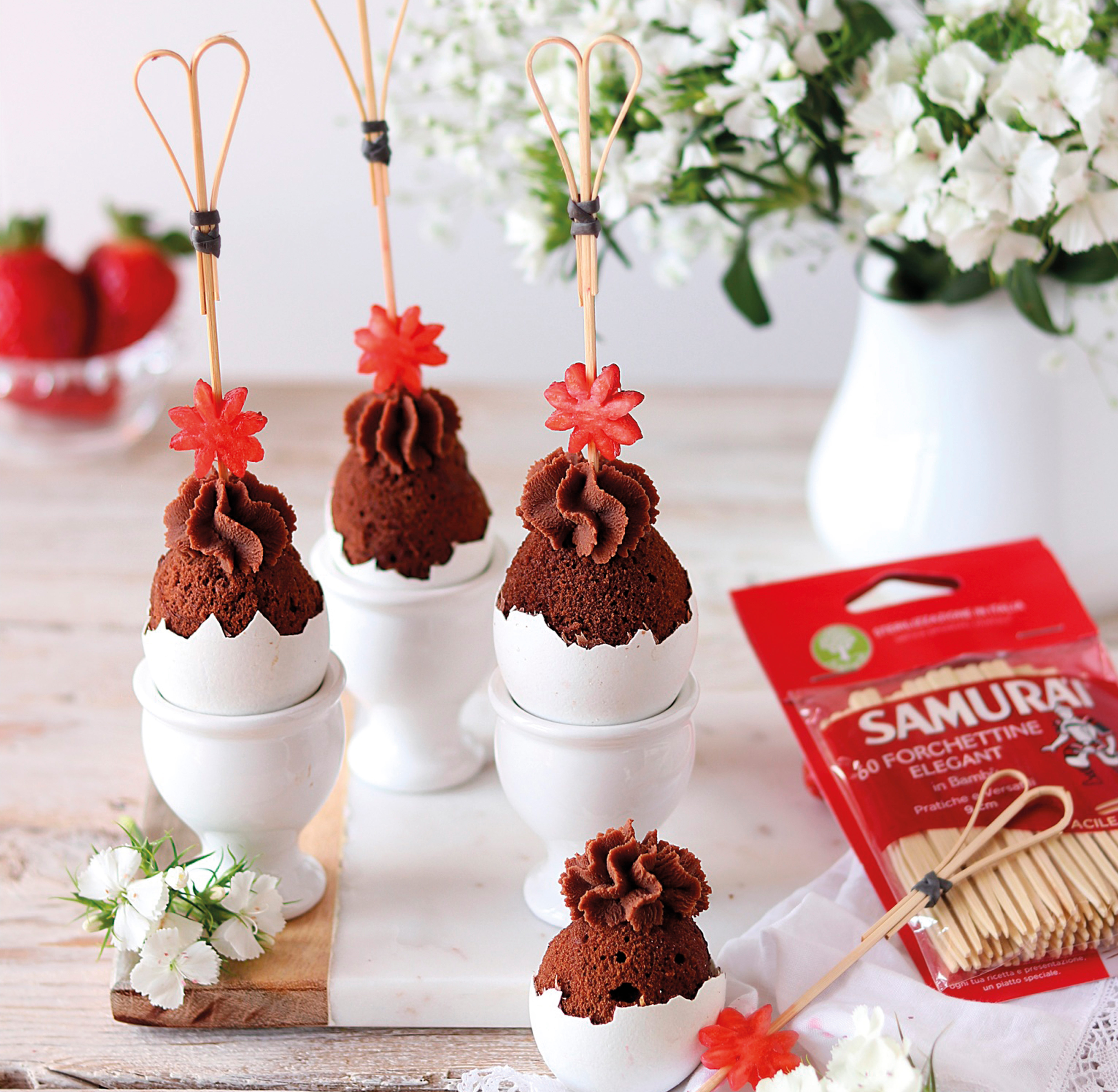 Breaking a simple egg could hold some interesting surprises… especially if you unexpectedly find a cake inside it!
Eggshell filled with cocoa cake, cute to look at and… to eat in one bite!
TALENT: TIZIANA RICCIARDI
INSTAGRAM: @deliziosavirtu
Difficulty: Medium
Preparation time: 120 minutes

Cooking time: 15 minutes
Doses for: 9 eggs

Ingredients
00 flour 90 g
Cocoa powder 10 g
Dark chocolate 100 g
Sugar 80 g
Le Naturelle Deluxe eggs 2
Plain yogurt 125 g
Butter 50 g
Salt q.s.
Baking powder 1/2 teaspoon
Grated zest of orange 1

For the ganache
Dark chocolate 100 g
Fresh cream 100 ml
Strawberries q.s.
Love Skewer

Method
For the eggshells
Using a large needle, make a small hole in one end of the egg and another larger one (about 0.5 mm) on the opposite side, so that you can insert the nozzle of a pastry bag. Blow through the small hole so that the contents come out, rinse each shell under running water and soak it in a saline solution obtained with 100 g of salt and 1 litre of water for 30 minutes, then rinse thoroughly with clean water and cover them with boiling water. Drain them well and dry them on paper towels.
For the ganache
Melt the chocolate and cream over a bain-marie, mix well and leave to rest in the fridge for 4-5 hours.
For the mini cakes
Melt the dark chocolate with the butter in a saucepan over low heat. Once it has melted, let it cool down. Then add the sugar, yogurt, eggs, one at a time, mix with a whisk and add a pinch of salt. Add the flour, cocoa powder, grated orange zest and mix with a whisk until you obtain a homogeneous mixture. Line a muffin tin with aluminium foil, so that the eggshells can stand upright. Pour a teaspoon of sunflower seed oil into each eggshell and turn it so that the oil coats the inside letting the excess flow out. Pour the mixture into each eggshell using a pastry bag and filling it up to 1 cm from the edge. Bake at 180º C for 15 minutes. Remove from the oven and leave to cool down.
For the decorations
Rinse and dry the strawberries well, cut them into slices and make the flowers using a biscuit cutter. Take the ganache out of the fridge and whisk it using an electric hand mixer.
Plating
Remove a part of the eggshell and decorate it with tufts of ganache using a pastry bag fitted with a star nozzle. Put the strawberry flowers on the ends using a Samurai Love Skewer and serve each portion in a single egg cup.
Perfect for:
A dessert to end the meal
A delicious snack