BRUSCHETTAS WITH EGG WHITE CLOUD AND MARINATED YOLK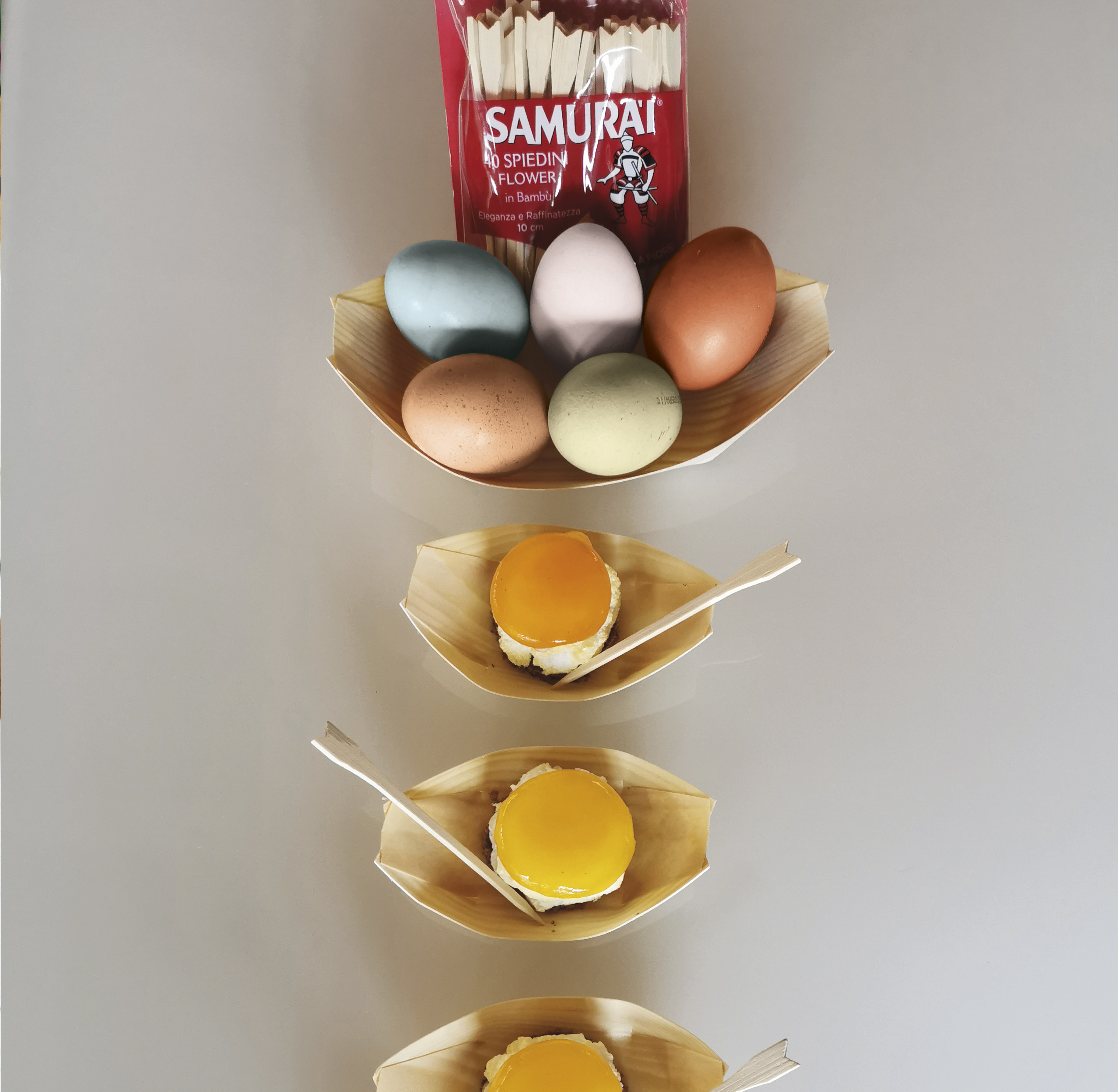 A truly original way to serve the most emblematic Easter ingredient, an irresistible gourmet, choreographic and delicious version!
TALENT: SERENA FILIPPI
INSTAGRAM: @zuccaepanbagnato
BLOG: zuccaepanbagnato.com
Difficulty: Medium
Preparation time: 45 minutes

Cooking time: 20 minutes
Doses for: 4 people

Ingredients
Le Naturelle Deluxe medium-sized fresh eggs 4
Rye (or wholemeal) sliced bread 4 slices
Granulated sugar 200 g
Fine salt 200 g
Lightly salted butter q.s.
Decor Gondola
Flower Skewers

Method
Marinate the yolks: add salt and sugar, and place half on the bottom of a container.
Carefully separate the yolks, keeping the egg whites aside and gently place them on the salt and sugar mixture, well spaced apart. Gently pour the remaining half of the marinade in order to cover the yolks completely. Close the container with a lid and let the yolks marinate at room temperature for about 4 hours: the salt and sugar will slowly absorb the moisture of the yolk, thus increasing its consistency.
Fill a bowl with cold water and gently dip the yolks, one at a time, to remove any marinade residue. Quickly dry the base of the yolks with kitchen roll and store them in the fridge until required.
Using a small pastry cutter, cut out a few small discs of bread, spread a layer of lightly salted butter on each one and toast them in the oven for a few minutes at 150 degrees until golden and crunchy.
Whisk the egg whites with a pinch of salt until stiff, and using a spoon place 3-4 cm high heaps of dough on a baking tray lined with baking paper, trying to make a circular shape with a diameter equal to that of the bread discs. Bake the egg whites at 200°C for 4-5 minutes until they are puffy and slightly golden.
Plating
In each Decor Gondola, place the crunchy bread disc at the base, cover with the warm egg white cloud, and gently add the marinated yolk. Complete by inserting the Flower Skewer in the centre.
Perfect for:
Amazing with a simple ingredient reinterpreted in a creative way
A light and original starter