BROAD BEAN AND PECORINO TRUFFLES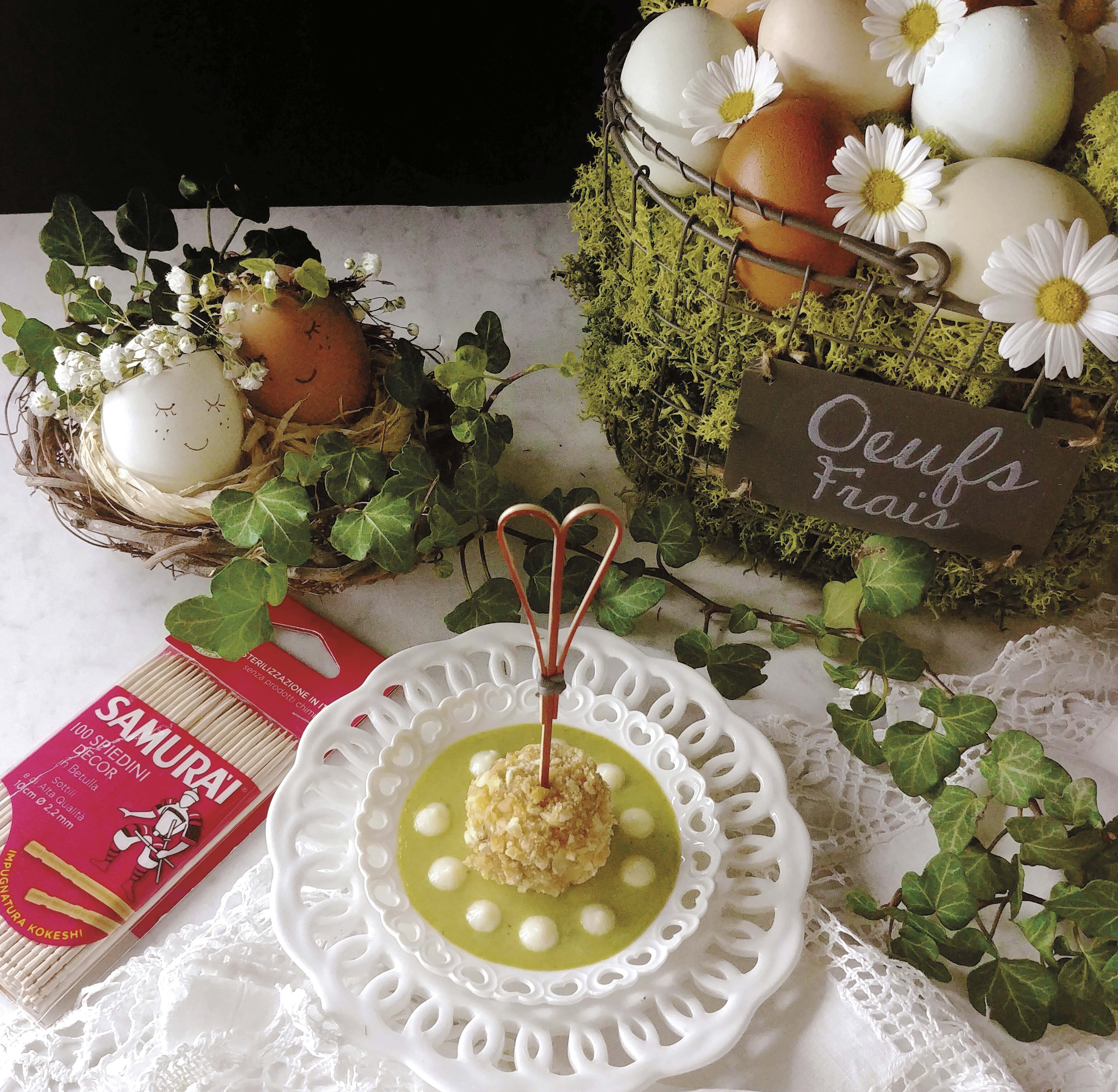 Beautiful sunny days, a picnic in the park and a great classic in the picnic basket: broad beans and pecorino from Lazio but… in amuse-bouche version, an elegant truffle also perfect to inaugurate the Easter lunch, or to enrich the tray of the appetizers.
The broad beans are the absolute protagonists, used in three versions… find out which ones!
TALENT: ANNAMARIA COSENTINO
INSTAGRAM: @ogni_tanto_cucino_io
BLOG: https://www.facebook.com/Ogni-tanto-cucino-616098455458502/
Difficulty: Easy
Preparation time: 30 minutes

Cooking time: 15 minutes
Doses for: 15 truffles

Ingredients
For the truffles
Fresh broad beans, shelled 200 g
Le Naturelle Deluxe eggs 6
Ricotta cheese 40 g
Robiola cheese 40 g
Grated pecorino cheese 20 g
Moroccan mint 5 leaves
Roasted and salted broad beans 150 g
Pepper q.s.

For the pecorino sauce
Fresh cream 150 ml
Grated pecorino cheese 100 g

For the broad bean sauce
Fresh broad beans, shelled 200 g
Extra virgin olive oil 30 ml
Ice cubes 2
Mint 2 leaves
Love Skewers

Method
Pecorino cream
Bring the cream to the boil, add the pecorino and melt the cheese, mixing carefully. Leave to cool.
Truffles
Boil the broad beans in salted boiling water for 5 minutes, drain and set aside. Once lukewarm, remove the outer skin and weigh 100 g. Hard-boil the eggs, peel them and separate the yolks. In a bowl mix the cheeses, the yolks, the pecorino cheese, the broad beans, the chopped mint leaves and the pepper. Mix by mashing with a fork. Make small balls the size of walnuts, "dirty" them with a little pecorino sauce and roll them in the chopped toasted broad beans.
Broad bean sauce
Put the left-over broad beans (about 100 g) in the blender together with the mint leaves, the oil, the ice cubes and, if necessary, a few tablespoons of vegetable broth or water to adjust the density.
Plating
Pour a spoonful of broad bean sauce into a saucer, place the truffle, decorate with drops of pecorino sauce. Insert a Love Skewer into each portion.
Perfect for:
A pampering treat for guests invited to the Easter lunch