BEEF TARTARE WITH CAPERS WRAPPED IN A MARINATED COURGETTE WITH MIXED GREENS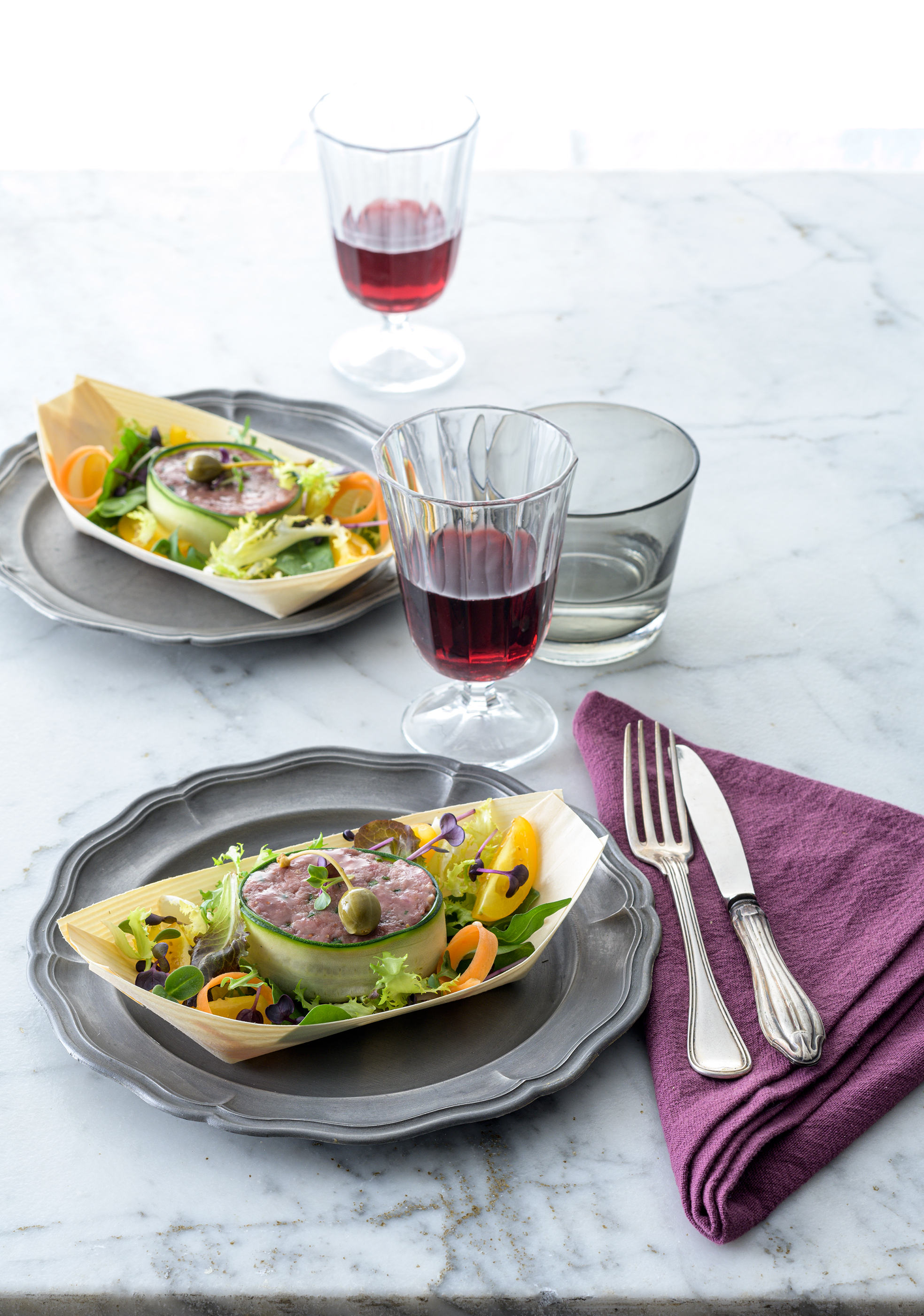 A fresh and yet filling second course, the beef tartare with mixed greens is the ideal dinner after a day swimming in the sea and soaking up the sun on the shore.
FOOD STYLIST: ANTONELLA PAVANELLO
Difficulty: Easy
Preparation time: 20 minutes

Cooking time: 10 minutes
Doses for: 4 people

Ingredients
Prime minced beef 500 g
Mustard 2 tablespoons
Pickled capers 4 teaspoons
Chives a few stalks
Caper flowers 4
Courgette 1 large
Mixed greens 80 g
Yellow plum tomatoes 4
Carrot 1 small
Mixed sprouts q.s.
White vinegar, salt and pepper, extra virgin olive oil q.s.
Decor Gondolas

Method
Mix 8 tablespoons of oil with 4 of vinegar, salt and pepper in a bowl. Wash the courgette, remove the ends and use a U-shaped potato peeler to shave 8 thin slices from the wider part at the centre. Line them up on a plate and brush both sides with the vinaigrette. Cover and leave to marinate.
Transfer the meat to a bowl, add the mustard, the capers, a few finely chopped chives, salt and pepper and stir well to mix all the ingredients. Divide the meat into 4 equal parts and shape it on a cutting board with an oval or round mould. Wrap each tartare in 2 slices of marinated courgette and store in the fridge.
Peel the carrot, remove the ends, wash it and use the U-shaped potato peeler to shave thin ribbons. Wash the plum tomatoes, dry them and cut them into four.
Plating
Place the mixed greens with the carrot ribbons, the plum tomatoes and the sprouts in a Gondola and season with the remaining vinaigrette.
Place a tartare in the centre of each Gondola, garnish with a caper flower and serve.
Perfect for:
A fresh dish suitable for summer, on any occasion