BALSAMIC PRAWN CROCK POT SANDWICH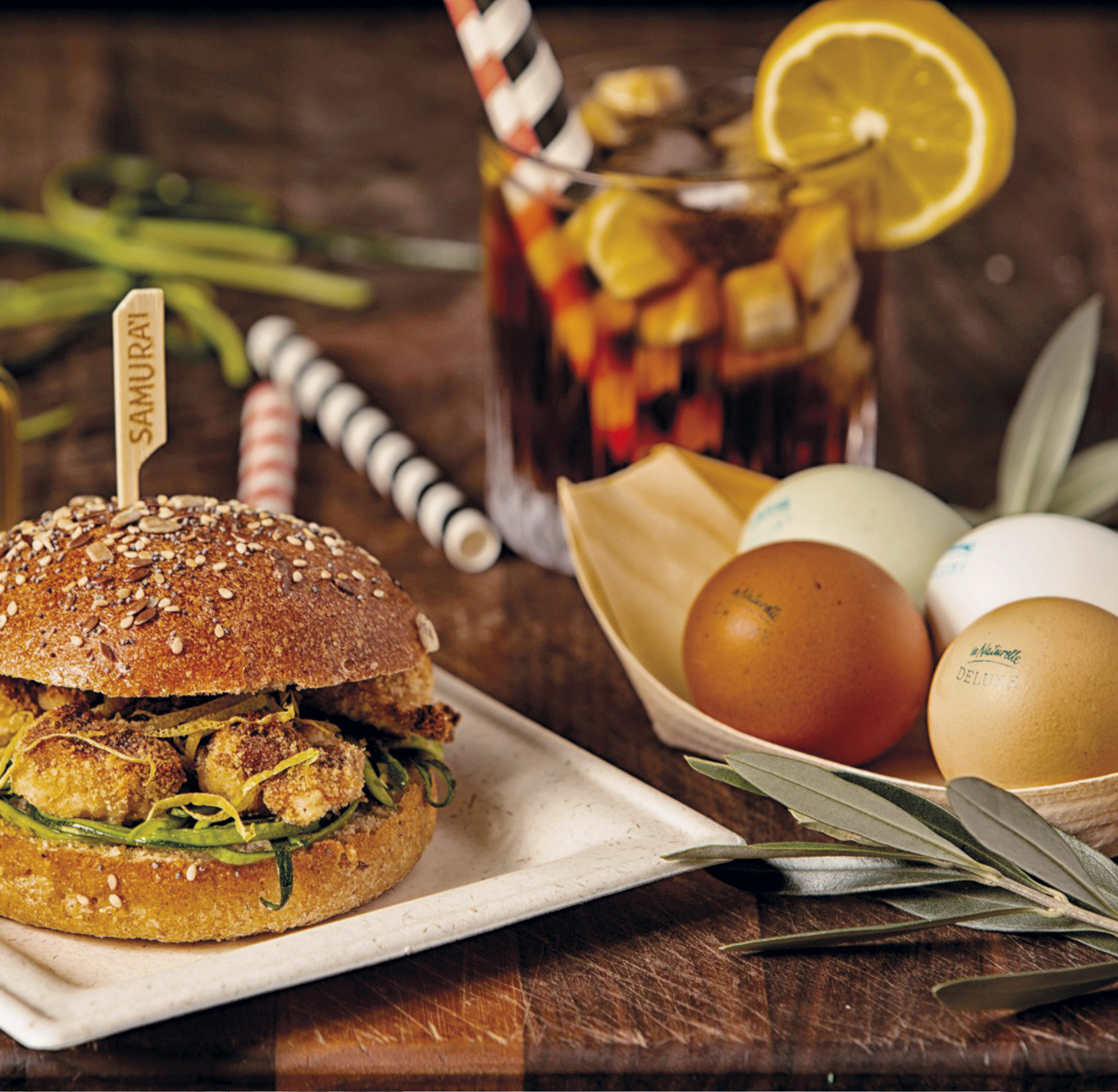 Stuffed sandwiches are among the greatest gastronomic discoveries of all time, they are perfect for a quick lunch break in the office, for a snack or brunch, for an aperitif and even as a main dish for informal or gourmet lunches and dinners.
TALENT: DAVIDE SCAPPINI
INSTAGRAM: @scappinidavide
Difficulty: Easy
Preparation time: 30 minutes

Cooking time: 15 minutes
Doses for: 1 sandwich

Ingredients
For the sandwich
Bun with sesame seeds 1
Courgette 1
Prawns 1
Le Naturelle Deluxe egg 1
Bread crumbs q.s.
Lemon zest q.s.
Extra virgin olive oil q.s.
Balsamic Vinegar of Modena aged 25 years q.s.

For the drink
Banana 1/4
Lemon 1 slice
Pomegranate concentrate 2 teaspoons
Cold still water q.s.
Ice q.s.
Gourmet Plate
Gourmet Skewer
Trendy Drinking Straws

Method
For the sandwich
Cut the peel of the courgette into julienne strips and toss in a pan with a drizzle of extra virgin olive oil. Dip the prawns in the whole beaten egg in a bowl and then in the breadcrumbs. Bake at 170 degrees until golden brown. Remove from the oven and sprinkle with grated lemon zest.
For the drink
Dice a lemon and a banana and put everything in a glass with two teaspoons of pomegranate concentrate and a few ice cubes; add cold still water and mix until the concentrate is fully diluted with water.
Plating
Cut the sandwich in half and place the sautéed zucchini peels on the base and the prawns on top, add a drizzle of traditional balsamic vinegar of Modena aged 25 years. Cover with the other half of the sandwich and close with a Gourmet Skewer.
For the drink, place a slice of lemon on the edge of the glass and a Trendy Drinking Straw
Perfect for:
A simple and creative lunch or dinner with friends