Baked stuffed apples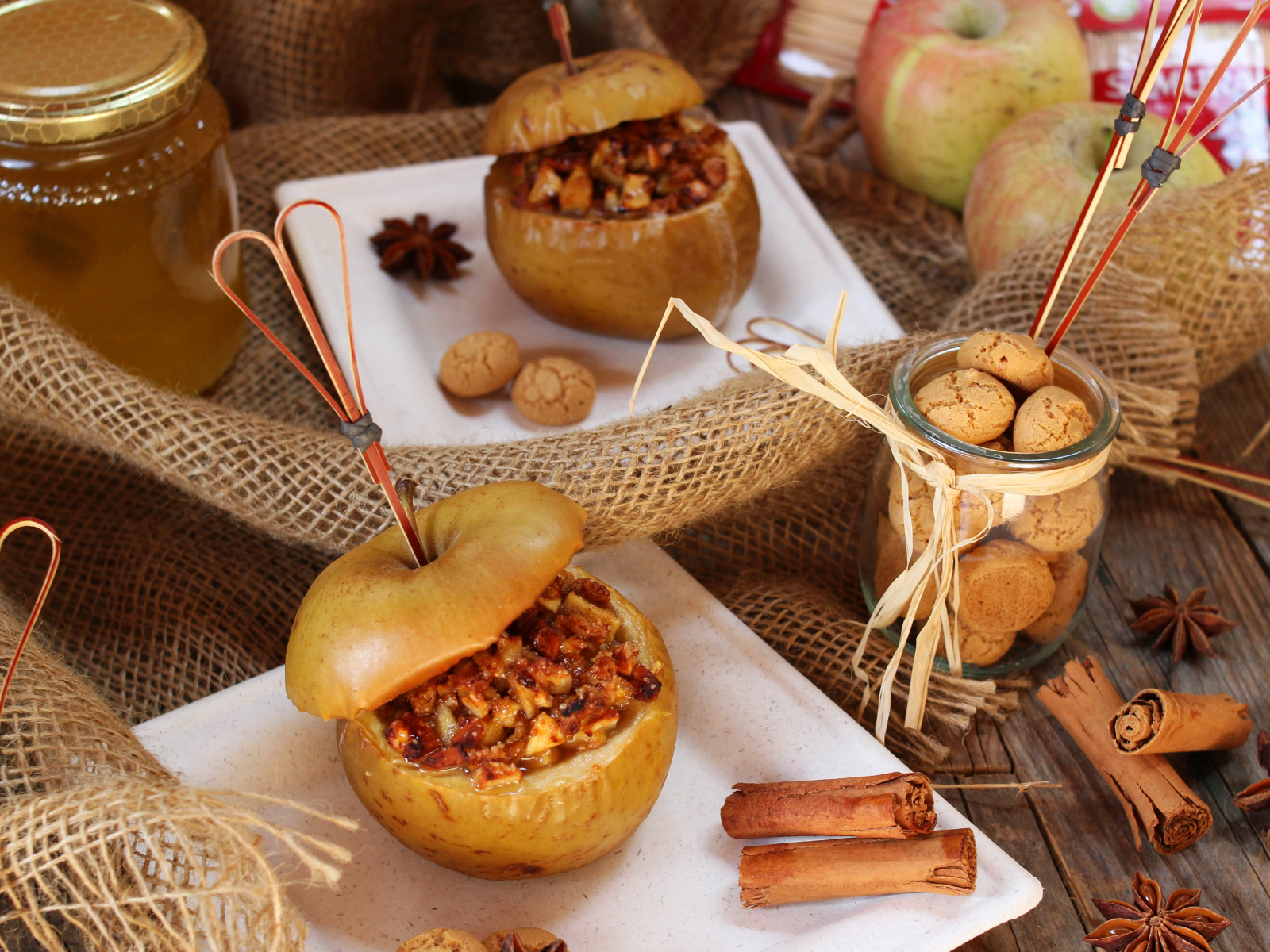 Difficulty: Easy
Preparation time: 15 minutes

Cooking time: 25 minutes
Doses for: 4 apples

Ingredients
Apples 4
Amaretti biscuits 60 g
Orange 1
Hazelnuts 30 g
Almonds 30 g
Walnuts 30 g
Cinnamon q.s.
Honey 4 teaspoons
Love skewers

Method
1. Start preparing the baked stuffed apples by putting the amaretti biscuits into a bowl and crumbling them by hand. Chop the walnuts and almonds finely with a knife and add them to the biscuits, along with grated orange zest.
2. Wash the apples, dry them, and cut off the top. Hollow out the apples, leaving about ½ cm around the edge, and cut the pulp into small pieces.
3. Add a heaping teaspoon of cinnamon, the little pieces of apple, and the juice of half an orange (if it's small, the whole thing) to the previous ingredients and mix well.
4. Fill the hollowed out apples with the mixture. Complete with a teaspoon of honey and put the apples into a baking dish. Put into the oven, pre-heated to 190°C, and bake for about 20-25 minutes.
5. Your baked stuffed apples are ready.
Plating
You can serve them with SAMURAI LOVE skewers, to add some flair to your preparation and make it even more appetising.
Author's note
The baked apples will definitely be better if served straight away!
Perfect for:
Baked stuffed apples are an easy, traditional dessert to enjoy one of the most classic flavours of old-fashioned homemade pastry making, where apples were the stars of countless sweets like Nana's fluffy apple cake, pies, biscuits or even, more recently, muffins. Unique flavours that take us back to the simple, authentic things that are the best part of traditions.
Baked stuffed apples are a decadent sweet that will delight your palates as well. Rediscover the natural sweetness of fruit with a low-calorie dessert that unleashes the wonderful flavours of citrusy orange notes, the intensity of amaretti biscuits, the aroma of cinnamon, and the crunch of nuts, along with the captivating delicacy of apples. All simple, mild, yet truly winning combinations. And if you're playing to an adult crowd, you can also try a spritz of brandy to make the apples even more fragrant.
Baked stuffed apples are the perfect winter sweet, after a dinner or lunch within the cosy walls of the home, sharing the pleasure of good food and good company, capping it off with a dessert for true connoisseurs.