4 quick recipes for dinner with friends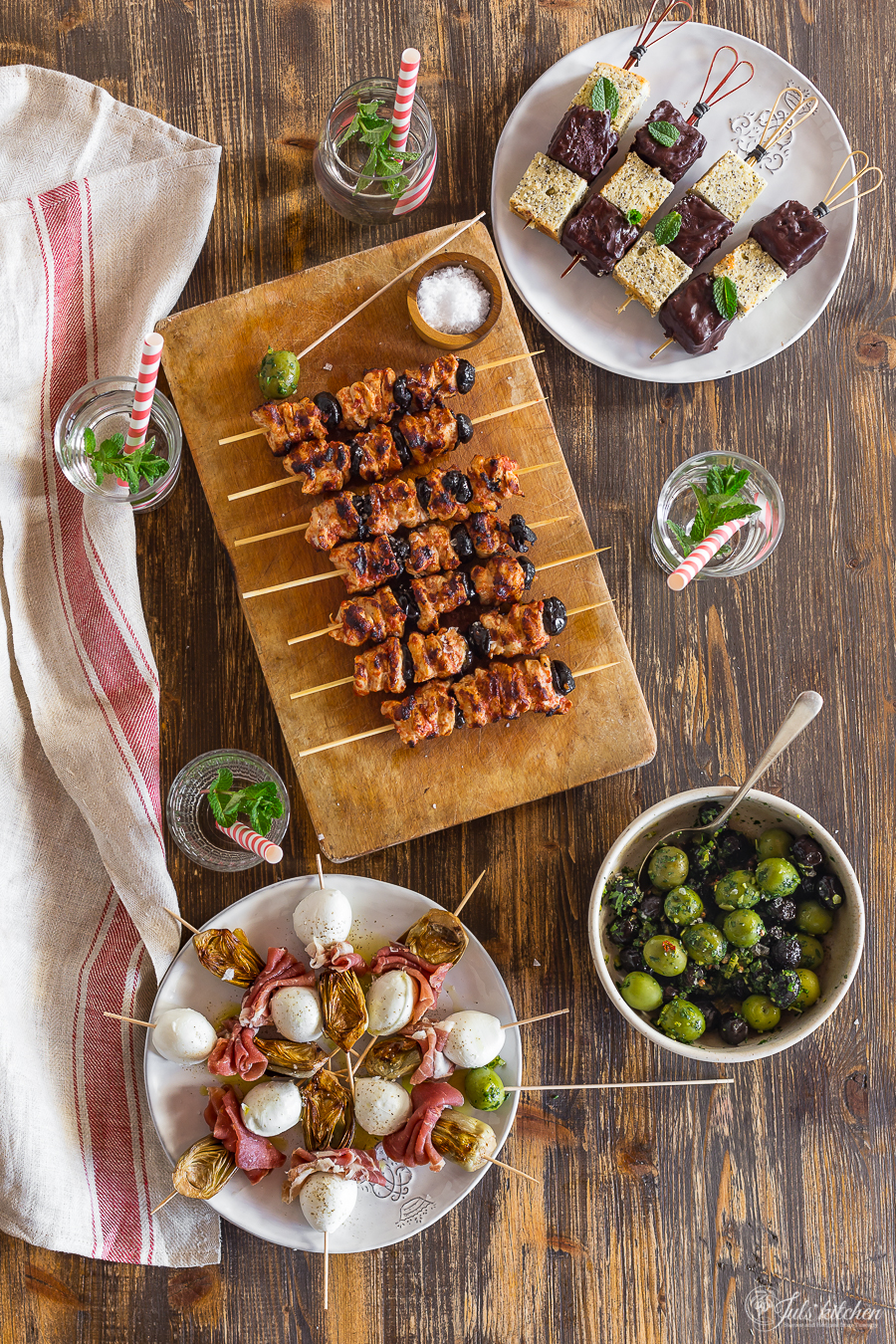 Ingredients
Marinated green and black olives
150g green olives
150g black olives
Peel of ½ lemon
1 sprig parsley
1 clove garlic
Dry chilli pepper
1 teaspoon coriander seeds
Extra virgin olive oil
Italian appetizer
8 baby artichokes in oil
4 slices of cured Tuscan ham
8 buffalo mozzarella bites
8 long toothpicks
Extra virgin olive oil
Freshly ground black pepper
Chicken cacciatora skewers
400g chicken breast (you can also use the tastier meat from a drumstick or thigh)
2 tablespoons tomato paste
1 clove garlic
Extra virgin olive oil
About 30 pitted black olives
Lemon and poppy seed pound cake
180g granulated sugar
180g butter at room temperature
Zest and juice of 1 lemon
3 medium eggs
180g 0 flour
8g baking powder
1 pinch of salt
3 tablespoons poppy seeds
For the ganache
150g 80% dark chocolate
80ml fresh cream
Method
Marinated green and black olives
Drain the olives and put them into a bowl.
Chop the lemon peel with the parsley, chilli pepper, and garlic. Add it to the olives along with the slightly crushed coriander seeds, and season everything with just enough oil to make the olives shiny.
Give it a mix and set aside, in the refrigerator or in a cool place until it's time for dinner.
Refrigerate leftovers and let them come to room temperature before serving.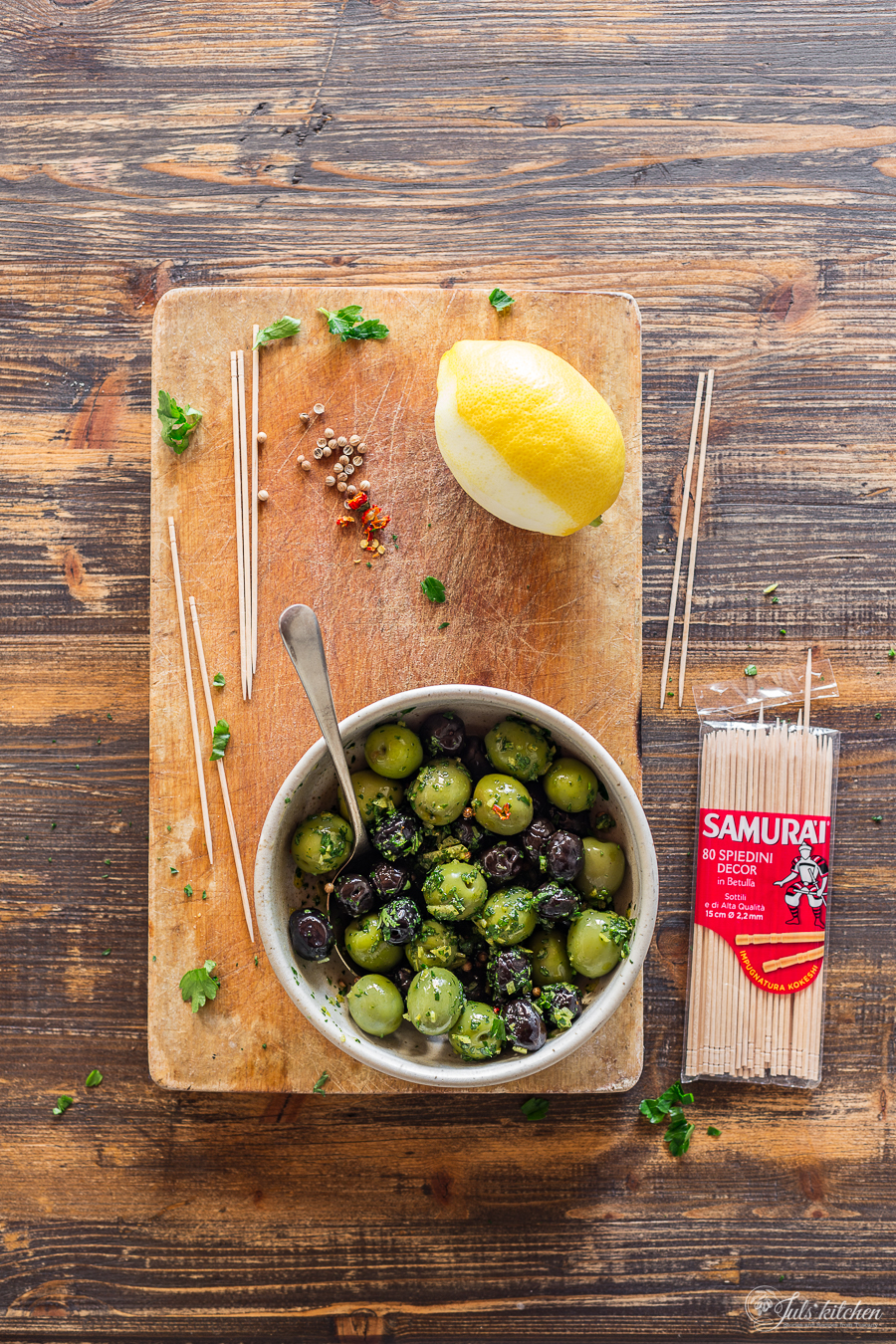 Italian appetizer
Drain the oil from the baby artichokes, dry them on a sheet of parchment paper, then grill them on both sides in a hot pan until golden-brown. Let them cool.
Cut each slice of ham in half lengthwise.
Prepare the skewers by threading a mozzarella bite, a piece of folded up ham, and finally, a baby artichoke. Season with oil and freshly ground black pepper.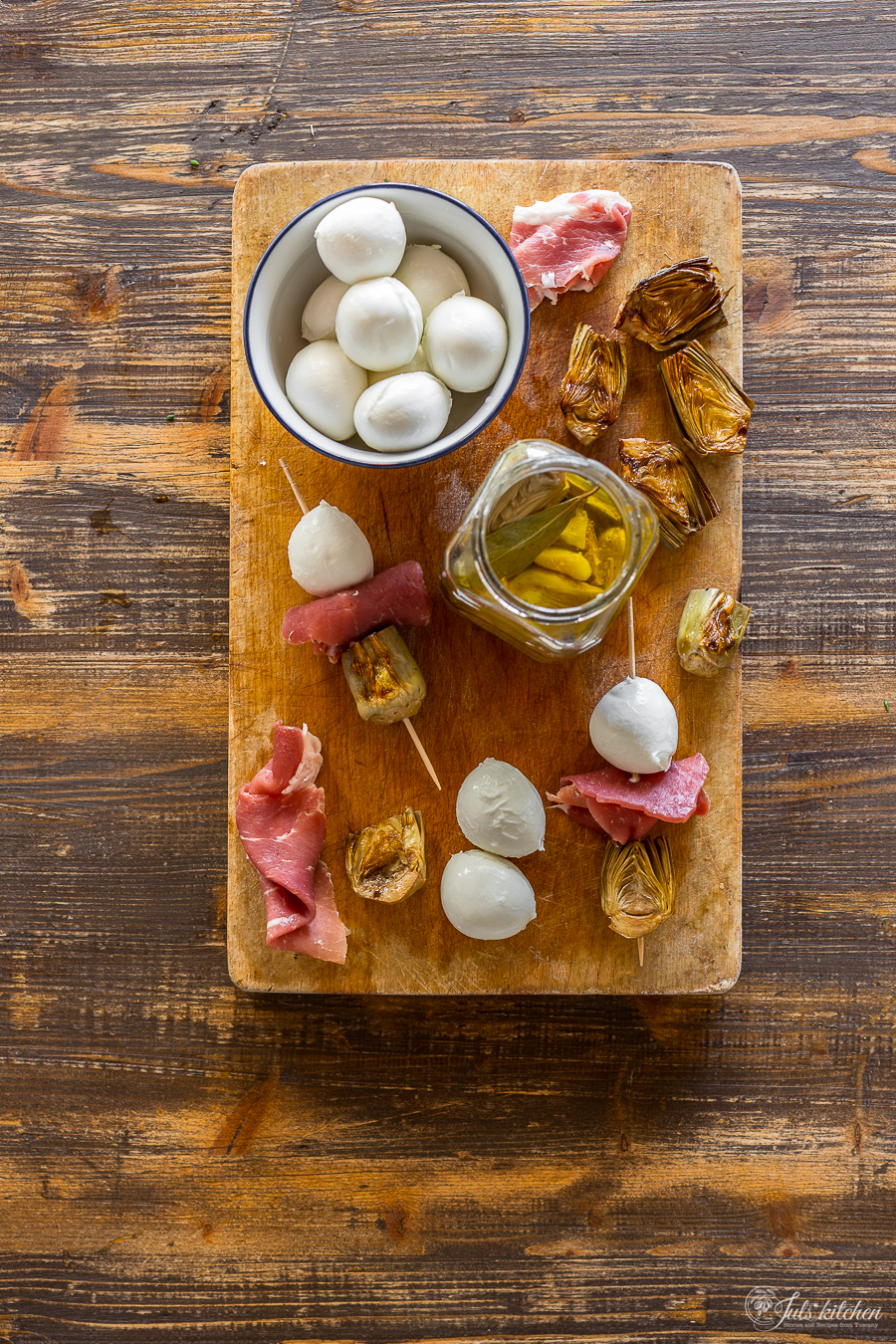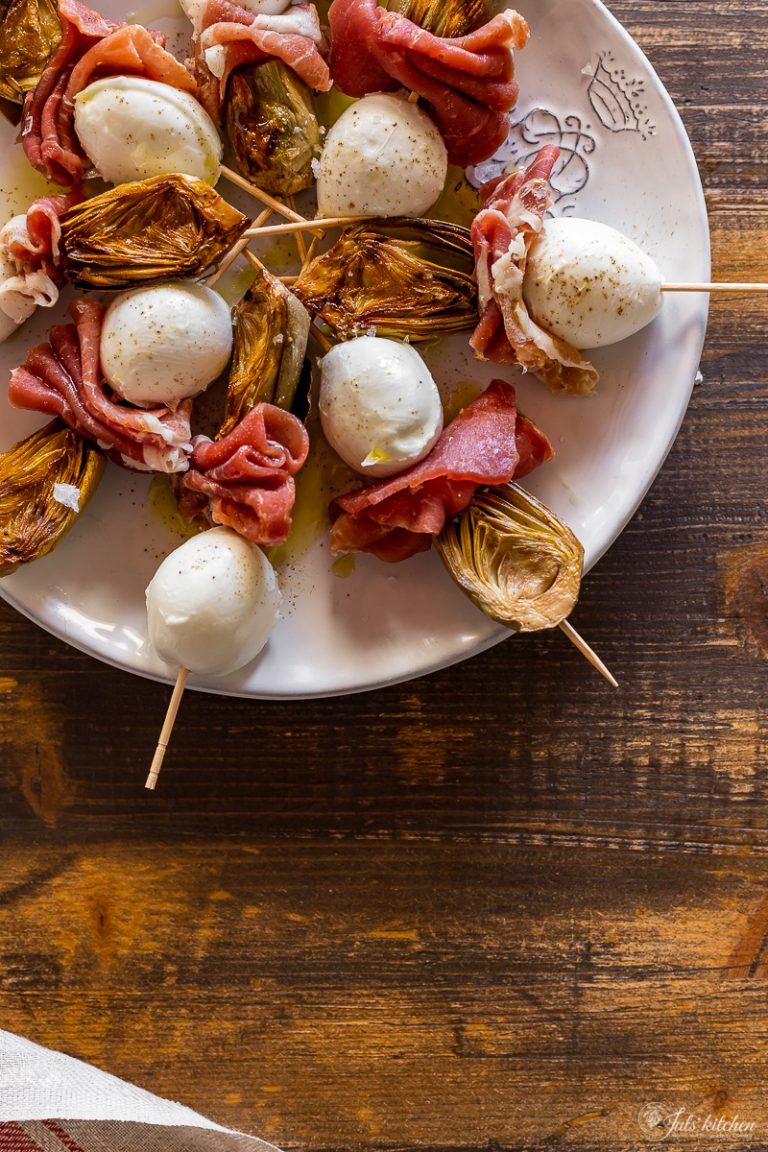 Chicken cacciatora skewers
Cut the chicken breast into bite-sized pieces, put it into a bowl, and add the tomato paste, chopped garlic, and a few tablespoons of extra virgin olive oil. Mix with a spoon to coat the chicken in the marinade, cover with plastic wrap, and refrigerate for a couple of hours.
When you are ready to make dinner, take the chicken out of the refrigerator and make 8 skewers, alternating the pieces of chicken with the pitted black olives. Let them come to room temperature, then grill them in a hot pan until golden-brown on all sides.
Add salt at the end, along with a drizzle of oil to keep them moist.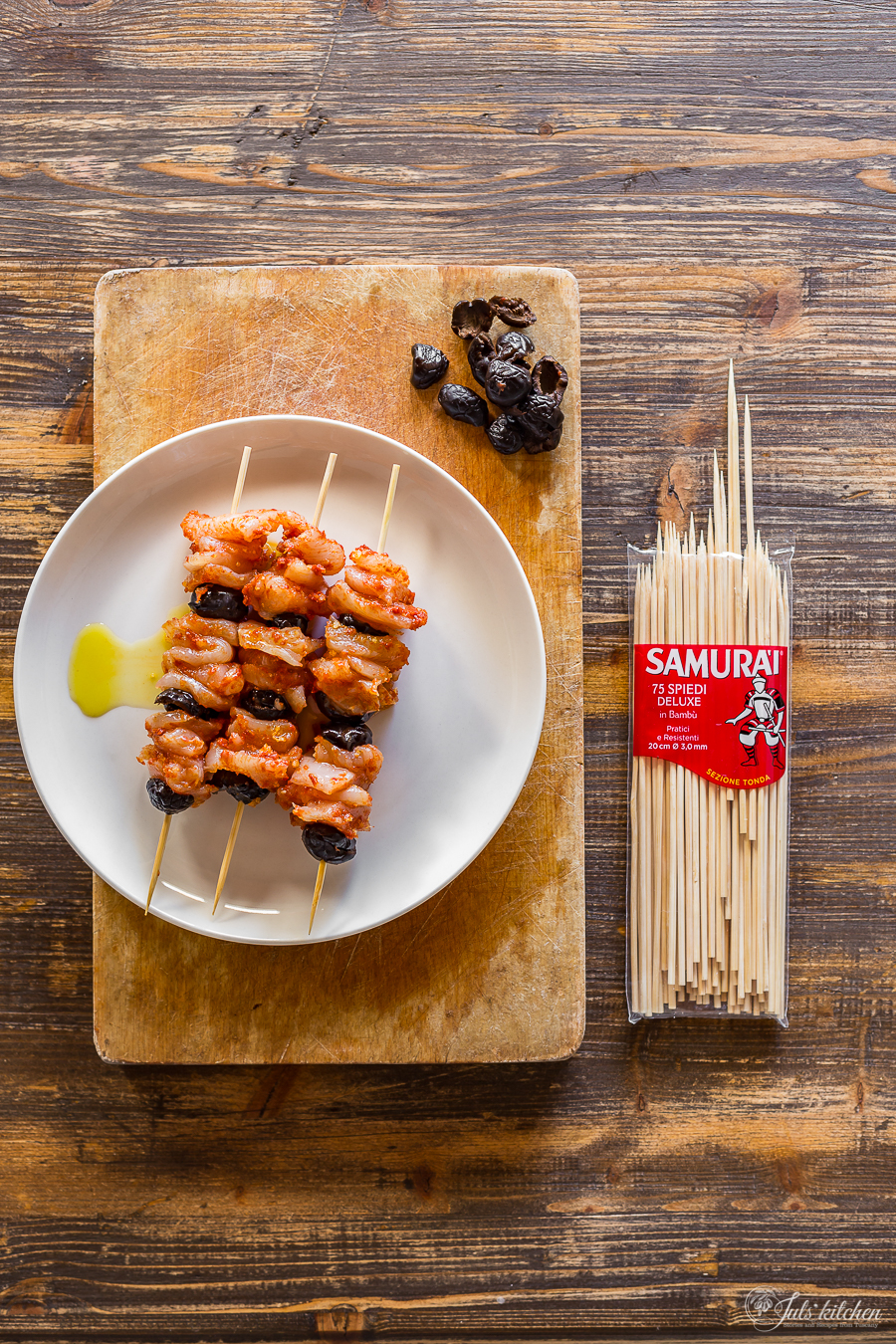 Lemon and poppy seed pound cake
Cream the butter with the sugar and lemon zest until white and frothy. The lemon will unleash its intense aroma from the bowl: this is a guarantee that your cake will be permeated by the same aroma.
Add the eggs, one at a time, and at the end, the flour sifted with the baking powder and salt.
Incorporate the lemon juice and the poppy seeds.
Butter and flour a round 18cm-diameter mould, fill it with the cake batter, level the surface and put it into the oven pre-heated to 180°C.
Bake for about 30 minutes, or until golden brown and cooked through. Test it with a toothpick.
Let it cool completely and cut it into same-sized cubes.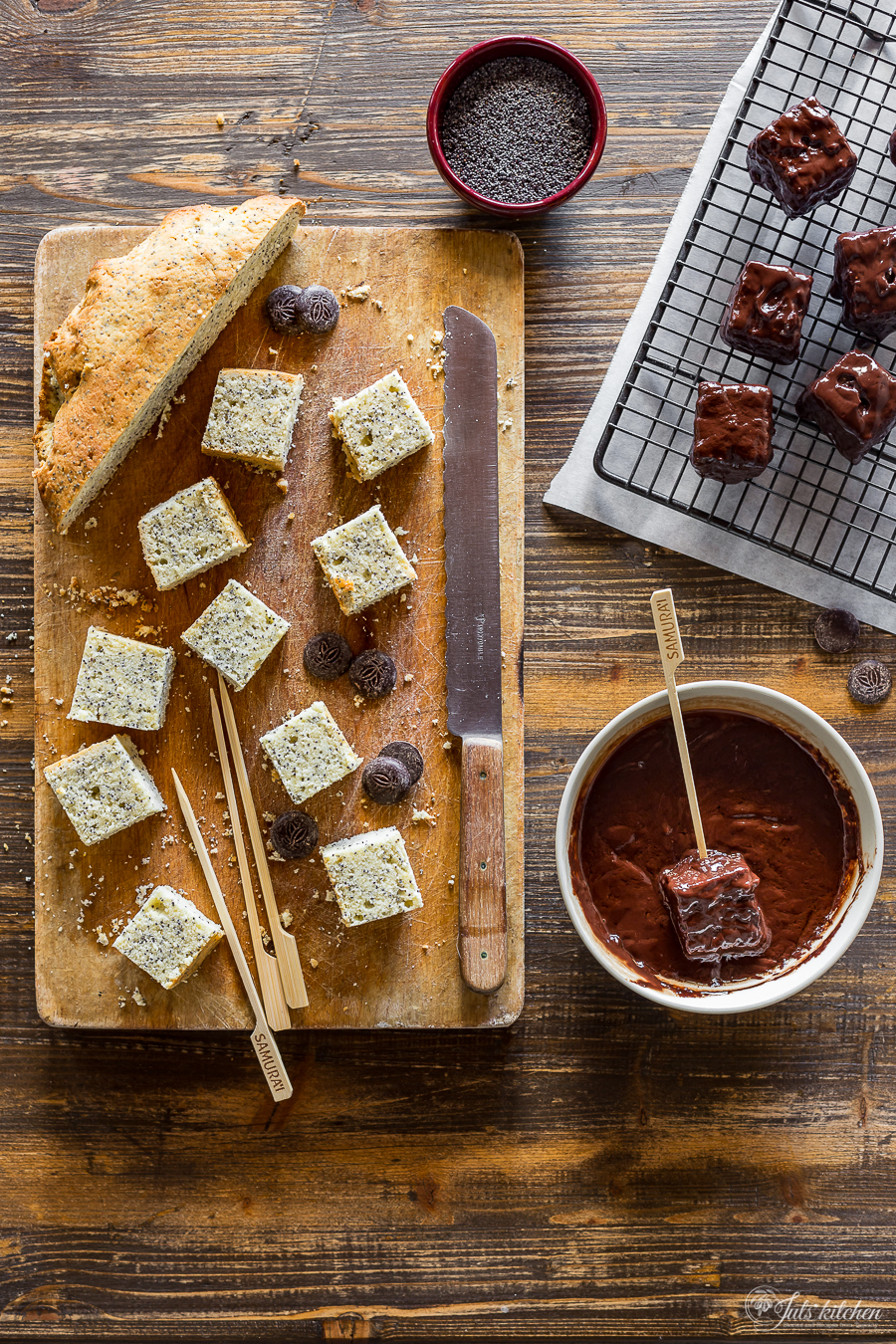 Prepare the chocolate ganache. Melt the chocolate in a bain marie, add the cream and whisk until smooth.
Dip half of the cake cubes into the chocolate using a toothpick, then set them on a rack to drip.
When the chocolate has solidified, alternate the cubes on toothpicks and garnish with mint leaves. You can keep them in the refrigerator for a day or two. Remember to let them come to room temperature before serving.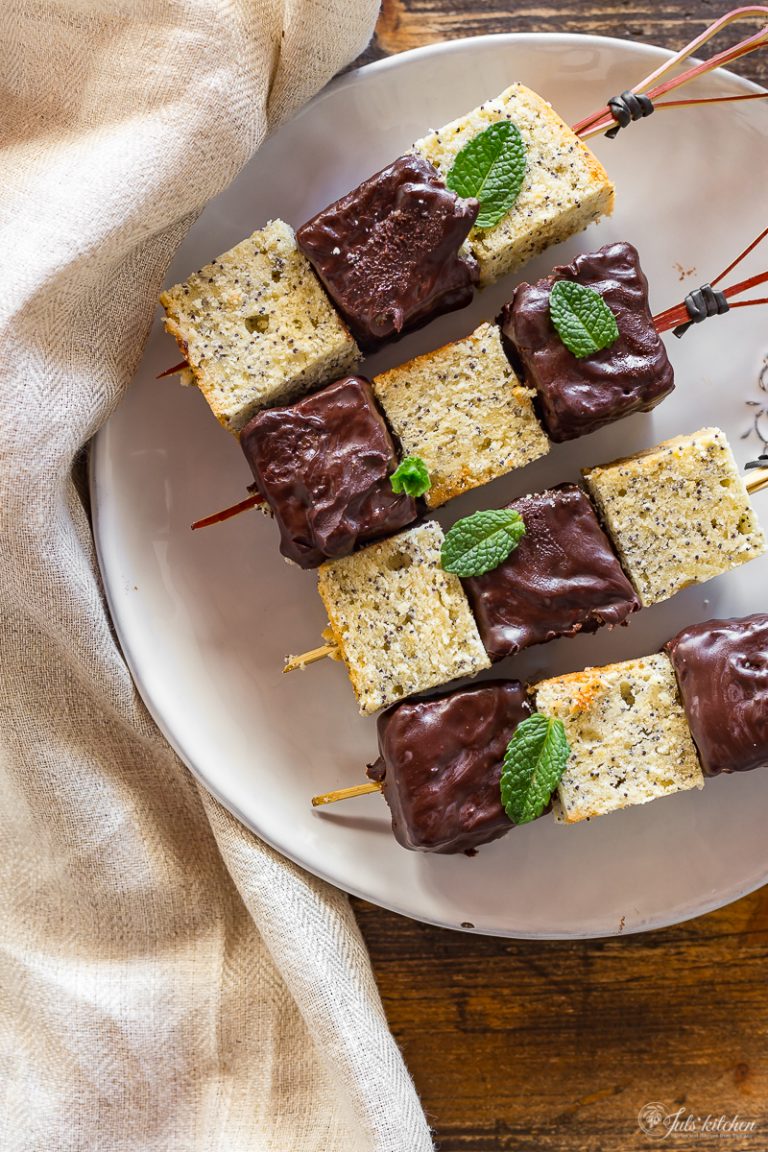 Recipe from Juls' Kitchen
Perfect for:
Sprucing up an informal table setting with friends, be it for a snack, dinner or lunch in the garden